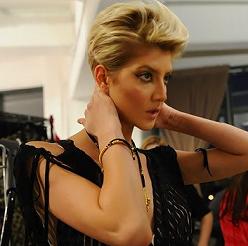 by Kristal Bailey
This week, on Make Me a Supermodel we're going to have to make due without Tyson – he's on a photo shoot in London. Tyson's replacement is Michael Bergin, male model and former star on Baywatch. The photo shoot challenge this week is having each supermodel to be face their emotions in a mirror. Sandhurst, Gabriel, Laury, Colin, Jordan and Shawn all struggled with portraying emotions and not just looking pretty. Johnathon pulled out such sadness from the recent loss of a friend, while Salome used her Mennonite history and rejection. In the end, Amanda danced out her sadness from leaving her son and won the challenge. Brendan envisioned his childhood dream of being a firefighter and nailed the photo, winning second. 

Amanda and Brendan pick Mountaha and Colin to go on the go-see with them. This is the best go-see yet! They are trying to book Montreal's fashion week, driving up in a swanky tour bus. They have some trouble with the French language barrier, but soon everything goes smoothly. Colin starts out awkward, but in the end they all book the show! Seems like Make Me a Supermodel is now producing real, professional models! The show is all excitement and French and nudity. Colin hits it off with the Canadian girls, but turns out they are just girls and are under 18. 

Once they are back in New York, the catwalk challenge awaits. This week, it gets interesting with a Freak challenge. They have full body paint and weird, interesting costumes. They have to walk down the catwalk as if they are freaks and sideshows. A lot of them faltered and didn't know how to behave, but Sandhurst, Laury, and Johnathon knocked it out of the park. 

In the end, Johnathon won immunity for having an emotionally strong photo and a dramatic freaky catwalk. The bottom three are Colin, Amanda, and Shawn. I'm surprised Amanda is down there, since she won the challenges the last 2 weeks but her freak catwalk was very weak. The judges were really harsh on her once she started crying. I felt they were genuine tears, but Maggie Rizner felt they were manipulative. However, she is safe for another week. The final two are Colin, because he hasn't grown as much as the others, and Shawn, because he wants it so much but doesn't know how to harness his passion. Shawn is going home and I am so glad it's not Colin. Honestly, Shawn is too old at 30 to be starting a super modeling career, while Colin still has so much untapped potential. 

Tune in next week for more drama, photos, and catwalks. New episodes of Make Me a Supermodel air on Bravo, Wednesday nights 10pm EST/PST.
(Image courtesy of Bravo)
For more Make Me A Supermodel Links visit Sirlinksalot.net