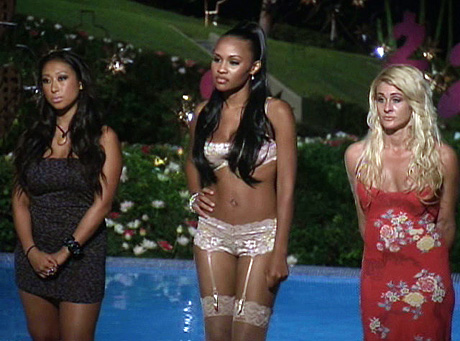 Cali, Myammee & Milf
I Love Money 2, Episode 5, Jungle Love For Money
By Jackie Helm
Money has made this cast go mad!  Now that the house has been shook up and placed in two new teams, mass confusion is underway.  The Entertainer found it fit to burn his old Gold Team uniform as he is now a Green Team member.  It was later revealed that the bonfire was a hoax.  ET and his former team members are still tight regardless of the recent split up.  The same went for Cali and Prancer, despite being on different teams they vow to still have one others' back.
Coincidentally, when it was time assign new team captains- both Prancer and Cali spoke up and received the crown for the day.  Craig Jackson met the crew in a wooded area, welcomed them to "the jungle" while sporting a shirt that read, "The Brown Jeff Probst"!  How clever and cute!
Craig claims that the area is one of ancient burial grounds and that hidden treasure remains in the land.  The name of the game is Gold Digger, after money hungry "Hotlanta" of Flava of Love.  The teams are attached to each other by rope and must run through the woods solving clues that lead to treasure. 
Talk about comedy - these folks put on a show!  The tasks consisted of hurling coconuts into a basket suspended by a tree, breaking open a piñata and translating Spanish.  The Green Team had one heck of a head start until a clue was misinterpreted.  This allowed the Gold Team to catch up and experience another advantage as Heat knew Spanish.  The Gold Team found their marked treasure first, furiously dug it out of the ground and won the competition.  This made the Gold Team safe and their captain Prancer became the new Paymaster.
Saaphyri was hot!  She demanded clarification of WHO misconstrued the clue that held the Green Team up.  Myammee fetched it from the woods and the Green Team sat crying over spilled milk.  They had in fact misunderstood the clue but Myammee took the blame for it.  Cali spoke up and said that because she was the Captain who did not lead her team to victory; she would be 1 of the 3 team members up for elimination.  Saaphyri agreed and stated that Myammee would be put up for elimination as well.
Back at the house Saaphyri reassures Myammee that it's truly Cali that she is gunning for to go home.  Saaphyri became keen to Cali and Prancer's alliance and decided to spread the word throughout the house.  Naturally all house members plan to turn the Paymaster Prancer against her friend and make sure she eliminates Cali.  This doesn't fly smoothly with Tailor Made.  He is sick and tired of the Entertainer's posse running the house.  He plants his own seeds into the minds of Ice and Bonez.  He suggests that convincing Prancer to keep Cali and then bringing them into their own alliance would outnumber the Entertainer's crew.  Meanwhile, Saaphyri confronts Cali about less than acceptable performance during the challenge.  Cali admits being confused but accuses the houseguests of trippen and denies any alliances.
No time was wasted in the Vault.  Big momma Saaphyri called it like it was and said that Myammee, Milf and Cali were the 3 Green Team members up for elimination.  Her fellow Green Team agreed and that was that.
Later, the entire house was hounding Prancer about sending Cali home.  Prancer sheds some tears about Cali being her best friend in the house and wah wah wahhhhh.  Buckwild made a good point as she reminded Prancer that Saaphyri had to send Leilene home despite a tight friendship.
During the Power Outing, Prancer laid back like a pimp.  She questioned Milf, who was a hot mumbling mess.  She fake-questioned Cali due to their alliance.  She chose Myammee for her one-on-one and they talked business.  The magic word of the day is - Alliance!
During elimination Prancer said that the first check pulled out would be stamped void.  She takes a deep breath and exhales…"Cali".  As soon as we gasp Prancer continues "be glad it's not you" and proceeds to tell Milf – momma you're out of here.  Upon her exit, Milf cries something about getting her son back.  Did I miss something, does she not have custody of her child???
The house is now reached true dysfunction.  The Entertainer hopes to keep his alliance strong.  Tailor Made is trying to break that up and make an alliance of his own.  Prancer saved Cali and has a new alliance with Myammee.  In short; no one can be trusted and trust that everyone will be busted.  But who will win the money…I don't have my money on any of these fools yet!  See you next week!
For more I Love Money links, visit sirlinksalot.net
Photos courtesy of VH1.com