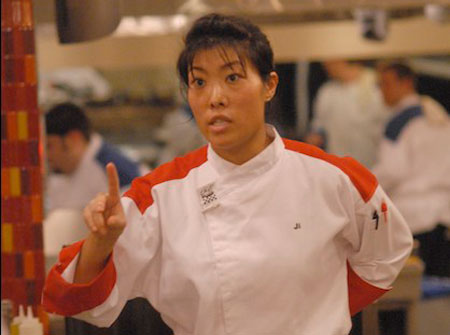 By Arthur Perkins
 
After the baloney that has several of the chefs posturing, this episode starts with a Scallop Challenge. Unbelievably, none of the 15 remaining chefs had ever shucked scallops from their shells before. I guess in their home kitchens the scallops always arrived neatly prepared. Well Ramsay wants them to learn something about how to do this, so after he has demonstrated in his brief, terse manner he poses a contest , Red team vs. Blue team, to shuck the most scallops in I think 5 minutes each. Every member of both teams does this and then Ramsay's gradings are reported for each individual on both teams. Here they are:
 
Red Team
Carol 8 of 8
Colleen 5 of 6
Paula 1 of 10
Lacey 3 of 6
Coi 6 of ?
LA 8 of 8
Ji 4 of ?
Team Total 35 (with Andrea sitting out due to the need for equal sized teams
 
Blue Team
Giovanni 13 of 16 (unbelievably high production)
Ben 3 of 11
Danny 9 of 10
Charlie 2 of ?
Seth 3 of ?
Robert 5 of ?
J 1 of 6 (the suspense was killing the audience as Ramsay presented J's finished scallops so the the first 5 were bad and everything was going to be decided by his 6th one, which was good).
Team Total 36
 
The Men win and get to take a helicopter to Catalina Island for their prize. However, Ramsay tells Robert that insurance regulations forbid him at more than 400 pounds to ride in that helicopter. He will have to take an express ferry that gets passengers there in less than one hour, but getting to the dock is time consuming. The others on the Blue Team go on the submarine ride and when they are finished it is apparently time to go back on the express ferry just as Robert is arriving. Tough luck, Robert. The Red team got to spend the entire day prepping items for the Raw Bar, which will be instituted for the first time in Hell's Kitchen. The work was difficult and Chef Ji suffered a serious leg injury. Ji was able to prep for the rest of the day but she was grimacing and in great pain at the end of the day. Lacey had played prima donna for the nasty way she had been treated by multiple teammates and she delayed joining the others for about 6 hours to sulk in bed. When she came she did attempt to demonstrate an attitude adjustment, but some teammates never accepted her.
 
Ramsay has a meeting with them outside and tells them that their first leg performance was "beyond disappointing" before he has them open crates and bins and boxes of raw seafood products that must be repackaged into his tubs. He pointed out that the alternative was to sift through the plastic garbage bags to locate usable food, but he needed them on the seafood. Colleen actually falls into one of the bins.
 
One member from each team is selected by Ramsay to operate the Raw Bar for their side of the dining room. This is Paula and Robert. They get the opportunity to meet and greet the diners. serving raw bar items does take some pressure off the main kitchen area because it buys time to produce appetizers. Then the kitchen is opened.
 
Carol starts it off by screwing up risotto. Charlie has no experience on risotto. Ben is asked by Gordon to help him and does an outstanding job. Colleen apparently doesn't know what she is doing
so Lacey is asked to help her and tutor her and does an outstanding job. Ramsay facetiously states "God Bless Nebraska", referring to mistakes being made by Colleen on salmon overcooked on the outside and undercooked on the inside. Charlie and Seth both screw up and put no lobster into spaghetti lobster, a glaring fault that leads to a Ramsay tantrum. Colleen apparently was not listening carefully to the order callout by Ramsay (incidentally I have trouble following it because he is speaking too rapidly). Ramsay throws a fit that includes major verbal invective at Colleen. He directs Colleen to get out of the kitchen, but it is only to exile at the Raw Bar. That brings Paula back. On the men's side Danny gets an "excellent" for his lamb. However, Giovanni is having problems with salmon that is overcooked. Lacey is working hard and doing well. Ji was on her feet despite obvious pain, as she had elected to try to last through the service. Afterwards, she went in-house for medical attention and assessment of how bad her injury was.
 
The teams were pitted in another competition when Ramsay told them with 5 orders left for the Red team and 4 orders left for the blue team that whichever team finished first would win. It was shown at 1 order left to 1 order left, but the men put it into high gear and won.  Ramsay states that the level of production was very positive and that this is the first time ever service has been completed by both teams in the second episode of a Hell's Kitchen season. He is pleased, which I bet the teams did not think was possible. It was stage managed in a deliberative attempt to build suspense, but the women have to nominate 2 chefs to be considered for elimination. They nominate Lacey and Colleen and it looks to me that Colleen's number is up. At the last second (not the way it happens in real live, only on reality shows and fantasies), Ji speaks up and volunteers to leave to save whichever of her colleagues was going to be ousted. This was one more example of her classy behavior. Ramsay has no choice but to accept her resignation because she is too injured to continue. He said that Ji was capable of winning, so it is a huge loss. I personally was rooting for Ji to win as I think she has the best experience and potential.  This gets Colleen and Lacey off the hook. I was turned off the by way that Carol diverted attention from her own sins and made sure to focus on Colleen and Lacey. Now that it is an open question again, I expect that her team might turn on her if her performance is low or erratic. Lacey's closing statement was essentially "I can think bad things about specific teammates, but I must not say them out loud."
 
So endeth an episode of Hell's Kitchen. The men will try to extend their winning streak beyond one. The women will be anxious to redeem themselves. it should be interesting.
(Photo courtesy of FOX)
For more Hell's Kitchen Links visit Sirlinksalot.net