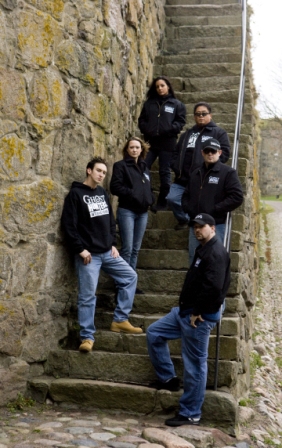 House of Priests - Borgvattenet, Sweden
Called the "Most haunted home in Sweden," the building started out as a house for priests, was later occupied by a family, and now poses as an Inn.   The house is set in perfect spot in a desolate area, holding a town of just 40 people.  Former residents who died in the house are said to be buried around the outskirts of the house, including a baby killed by it's mother after giving birth because the baby was fathered by a priest living in the house.  During the investigation there seemed to be many moments of someone trying to communicate with the GHI team.  Thumping Sounds, a woman's voice was heard and picked up on a wireless mike, and a bed began vibrating while Angela was sitting on it, witnessed by Dustin and again experienced by Barry at a later time.  The GHI team wouldn't call the house haunted but there was certainly enough evidence for a follow-up investigation.

Fortress of Varberg – Varberg, Sweden
A14th century fortress, now serving as a museum, had also been used as a prison in the early 1900's.  Another great location for an investigation, of course, any place with a dungeon usually holds the possibility for paranormal activity.  One of the more disturbing artifacts of the museum was a 650 year old skeleton on display with a stake through where it's heart once was, showing a horrible death.  Unfortunately morbid artifacts were about the only things experienced by the team on this investigation.  The team had no physical evidence and no personal experiences to even come close to calling the fortress haunted after their nights investigation.  I thought this investigation seemed a bit rushed and I didn't feel the team used their full arsenal of equipment.  Of course we're seeing less than 20 minutes of footage.  Still surprising that the team came up empty handed and you have to wonder if Brandy, the case manager, did enough research about the site.  Ghosts can't come out on cue but Sweden has to have many more sites that may have been looked over.

GHI Team Comments:
Joe Chin, from the Ghost Hunters team, finally joins GHI for an investigation.  If anything, he adds an extra experienced hand. 
Everyone on the team seems to be getting along professionally, which wasn't always the case on last season's episodes.  The question is whether or not this makes the show better or less interesting.


Story by: Chad Alan
(Photo courtesy of Sci Fi)
For more Reality Television Links visit Sirlinksalot.net