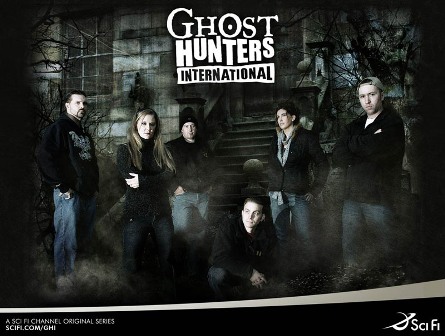 GHI started off their new season Peruvian style, featuring new investigator, Angela Alderman.  It would be obvious to say that Angela adds an upgraded sex factor to the team, so I won't mention it.  Noticeably not part of this new episode is fan favorite, Brian Harnois, who is now hosting a blog talk radio show with former Ghost Hunter Donna La Croix, as well as, hosting ghost hunts for a fee at various haunted locations. Also gone is Andy Andrews, who last season grabbed some extra camera time when his wife went into labor while he was taping one of the international shows. Robb Demarest leads the international team with regulars Dustin Pari, Barry Fitzgerald, and Brandy Green.  Joe Chin, who joined the Ghost Hunters team last season, is considered part of the GHI team but was not part of this episode.

As always, the story of the history of the location is both interesting, and disturbing.  Any place that has a dungeon carries an eerie past.  The best story came from a tourist who claims a spirit took over him and almost made him jump off a tower, just as a former soldier had done a century ago.  His wife and child has to restrain him from recreating the past.

Dustin and Angela, experienced solid responses from the EMF.  Barry and Brandy encountered loud pounding noises, to which the producers carried us into the commercial only to wait till the show returned to have the knocks identified as a noise from the near by city.  Barry claims to see his first bodied apparition, an apparition that Brandy had earlier experienced herself.  Personal experiences were rampant and some of them were actually recorded.  The big payday came when they caught the "ghost child" himself in one of the video cameras, which was the final proof for the GHI team to call the Fortress haunted.

Story by: Chad Alan
(Photo courtesy of SciFi)
For more Reality Television Links visit Sirlinksalot.net