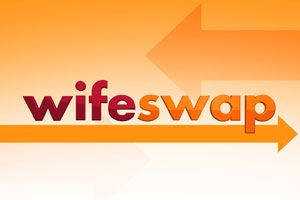 "Cooper/Kukta" - A family who spend 10 hours a day entering sweepstakes swap lives with a family of party animals, on the next episode of "Wife Swap," FRIDAY, DECEMBER 12 (8:00-9:00 p.m., ET) on the ABC Television Network. Each week from across the country, two families with very different values are chosen to take part in a two-week long challenge. The wives from these two families exchange husbands, children and lives (but not bedrooms) to discover what it's like to live another woman's life. It's a mind-blowing experiment that often ends up changing their lives forever.

The Kukta family from Utah are obsessed with the exhilaration of the "sweep." They enter raffles and contests and travel from supermarket to supermarket buying products tied to competitions. They have piles of packets of cat food with competition panels snipped out, but they don't own a cat. Wife Heidi (40) never goes anywhere without her "sweeping tools," two telephones on separate lines, and husband Andy (40) wakes up at 3:00 a.m. to play online contests because, "while you're sleeping, he's sweeping." The house revolves around Andy and Heidi's shared daughters Catherine (4) and Aimee (3), while Heidi's two older daughters, Jennie (17) and Miranda (12), fight for step-dad Andy's attention. The older girls do endless chores and cater to their younger sisters like two modern day cinderellas. At 9:00 p.m. the house goes on "lockdown" so the younger girls can get a proper night's sleep. A social life outside the family is out of the question. Instead Heidi and Andy feel that any spare time should be spent collecting old bottle caps from the trash cans in the neighborhood so they can enter prize draws.

Meanwhile, the Cooper family from the Florida Keys live their lives as if they were on permanent vacation. Jim (43) and Joanna (41) quit their normal 9 to 5 jobs to relax and enjoy life with their two kids, Caya (11) and Andreas (3). They run a DJ and wedding video business so they can make a living off of their love of partying. The Coopers love the Keys so much, they convinced Joanna's parents to move in so they'd always have someone around to baby-sit. With the kids taken care of, Jim and Joanna can bounce from party to party and stay out until the sun comes up. For the Coopers, life isn't about keeping a clean house or enforcing boring rules; Jim and Joanna see no need to wear watches, and are content carousing around the island of never-ending fun.

In the first week, Heidi moves to the Florida Keys and is thrust into the party spotlight when the Coopers host a bash for 50. She questions the free flowing, careless lifestyle on the island, which she calls an "adult playland." Meanwhile at the Kuktas', Joanna is astonished by the amount of time and money that is spent entering sweepstakes. She also notices the disconnection between step-dad Andy and the older girls, and is concerned they aren't able to lead normal teenage lives.

In the second week of the swap, when the wives change the rules and turn the tables, Heidi introduces the Cooper family to the wholesome fun of bottle collecting and exploring the supermarket for contest opportunities. She also forces Jim to get a traditional 9 to 5 job in hopes he'll learn to provide for his family instead of partying. In the meantime, Joanna bans sweeping from the Kukta home and encourages Jennie and Miranda to throw a luau for all their friends, against Andy's wishes. After two weeks in another home, can Heidi Kukta teach the heedless Coopers the importance of responsibility? And can Joanna show the Kuktas their sweeping obsession is ruining family?


"Wife Swap" is an RDF USA production. It was created by Stephen Lambert and is executive-produced by Mike Gamson, Stef Wagstaffe and Michael Davies of Embassy Row ("Who Wants to be a Millionare"). Stephen Pettinger, Neil Regan, Julie Cooper and Will Nothacker are co-executive producers. "Wife Swap" is broadcast with Spanish subtitles via secondary closed captioning. A TV parental guideline will be posted closer to airdate.
(Photo courtesy of ABC)