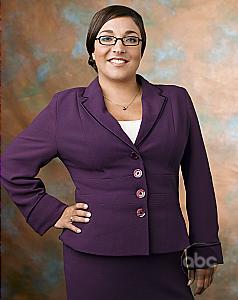 "Manley Family" - John and Sarah Manley have been separated for over six months. John has his own apartment but has tried not to disrupt his children's lives, so he has daily meals and spends every weekend in the family home, but overnights in his own apartment. The children, Max, 7, and Claire, 4, can't quite figure out what's going on, but they handle their worry and confusion by acting out with anger, backtalk, fighting and tantrums. A simple trip to the grocery store is so fraught with the kids' antics that Sarah cannot keep track of their whereabouts, and shoppers won't even go down the same aisle as the Manleys. Sarah finds it hard to hold her ground in the power struggle with her kids, partly because she's nearly as confused as they are about the state of her marriage.

Jo takes Max aside and is nearly brought to tears when he quietly tells her he wants to ask his Dad why he moved out. The current living arrangement "for the sake of the children" clearly isn't helping. Jo asks John point-blank if he wants to save his marriage. When the answer is no, Sarah realizes her hopes for reconciliation are dashed, and the parents make a decision to divorce, turning to Jo to help them navigate this transition with Max and Claire. This heartbreaking and powerful episode of "Supernanny" airs FRIDAY, NOVEMBER 7 (9:00-10:00 p.m., ET) on the ABC Television Network.

Nick Powell is the creator and executive producer of both the American and British versions of the show. Nick Emmerson and Stephanie Schwam are executive producers of the American version. "Supernanny" is produced by Ricochet, Ltd.

"Supernanny" is broadcast with Spanish subtitles via secondary closed captioning. A TV parental guideline will be posted closer to airdate.
(Photo courtesy of ABC)