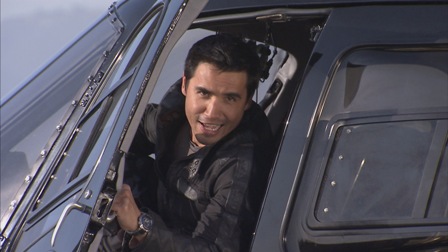 Series to Premiere November 11 at 10PM

New York, NY – September 15, 2008 – Professional broadcast host Trey Farley has signed on with SCI FI Channel as the host of CHA$E (formerly known as 'Cash or Capture'), a real-life video-game tag competition played out in urban environments, it was announced today by Mark Stern, Executive Vice President, Original Programming for SCI FI & Co-Head Original Content, Universal Cable Productions.  With a 6-episode commitment, the show will premiere on November 11 at 10PM ET/PT.
CHA$E is an action-packed, edge-of-your-seat reality competition show that pits a group of contestants against each other in the quest for cash prizes, while being stalked by relentless "hunters." Based on a successful Japanese format from Fuji Television, the action takes place in real time over 60 minutes throughout various Los Angeles landmark locations including San Pedro Harbor, Universal Theme Park and Descanso Gardens. As the clock counts down, the competition gets harder as more "hunters" appear on the "game board," the perimeter changes, and tasks are assigned that test fraying nerves. Contestants earn money for every second they "stay alive." If they are overrun by a "hunter," they lose everything. The last person standing can win up to $50k.
Trey Farley has spent the last 10 years working for some of the biggest and most respected television channels in the world including the BBC, National Geographic, the UK's Channel 4 and MTV Asia. His hosting duties have included sports, music, travel, entertainment and news.  He has also starred in several films including the breakout hit Bend It Like Beckham.
CHA$E is executive produced by Rick Telles for Buena Vista Productions, Realand Productions and Fujisankei Communications International. Telles was the co-executive producer on Who Wants to Be a Superhero? for SCI FI and producer on MTV's Fear. Allison Chase Coleman serves as co-executive producer and was recently the supervising producer on The Amazing Race.
Disney's Buena Vista Productions (BVP) is a television development, production and programming division within The Walt Disney Company. BVP develops and produces non-scripted original programming for syndication, cable and primetime outlets, both within and outside The Walt Disney Company including CHA$E for SCI FI, and Stringers for truTV. The studio also has non-scripted projects in development for the company's SOAPnet channel and oversees the production of "Who Wants To Be A Millionaire," with Emmy Award-winning host Meredith Vieira, and the acclaimed movie review show "At The Movies."
SCI FI Channel is a television network where "what if" is what's on.  SCI FI fuels the imagination of viewers with original series and events, blockbuster movies and classic science fiction and fantasy programming, as well as dynamic Web site (www.scifi.com) and magazine.  Launched in 1992, and currently in 93 million homes, SCI FI Channel is a network of NBC Universal, one of the world's leading media and entertainment companies.
(Photo courtesy of Sci Fi)