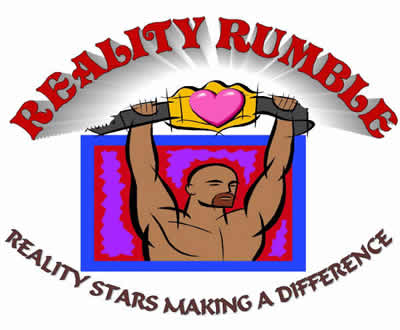 On Sunday October 5th Reality Rumble will be returning to Spotswood High School in Penn Laird, Virginia.  Reality Rumble (http://www.myspace.com/reality_rumble) is a non-profit organization founded by Chris Dodson and Tim Lawler that brings together Reality TV Stars, Pro Wrestlers and Recording Artist to raise money for charitable causes.  All proceeds from the upcoming October event goes to a classroom of disabled students called Spotswood High School's Special Stars.  The money will be used to buy Adapted Tricycles for physical therapy and other learning devices to help the students in the classroom and Field-Trips for the Students.  The Reality activities start on October 1st with events like Reality World Series Of Poker Night, Survivor: Gabon viewing, Bowl With The Stars, Reality Rock with a live concert by Nathan Neff & Brace For Impact, Meet & Greet at Massanutten Water Park, Meet & Greet at Spotswood High School and live South Atlantic Wrestling featuring the crowning of the very first S.A.W Heavyweight Champion!!  Legendary Pro Wrestling Journalist Bill Apter will be holding a live edition of Apter's Alley!!  Straight from Raven's Flock, WCW / ECW Superstars Scotty Riggs & Sick Boy will be involved in the Main Event.  Reality TV Icon Jonny Fairplay will be stepping into the ring!!  Plus, in an event you can only see at Reality Rumble, we will be holding our first ever Open Invitational Reality Rumble Royal Match!!  This wrestling match will feature a large number of MALE and FEMALE Reality TV Stars and Pro Wrestlers all battling to be the last one standing in the ring.  The Winner of this match gets to return to Spotswood High School on April 4th 2009 and wrestle Reality Rumble TV Champion Billy Garcia in a Championship Match!!  We would not be able to hold our events without the support of some wonderful people!!
 
*** Already signed up for the October Reality Rumble ***
 
1. David & Mary Conley "Team Kentucky" - The Amazing Race 10 & All-Stars
2. Jonny Fairplay - Reality TV Icon
3. Michelle Deighton - America's Next Top Model: Season 4
4. Lea "Sarge" Masters - Survivor: Vanuatu
5. Shameika Rhymes - I Want To Look Like A High School Cheerleader Again
6. Aaron Altscher - The Apprentice
7. Christina Coria - Survivor: Cook Islands
8. Rita "Lip Gloss" Verreos - Survivor: Fiji
9. "Flawless" Brandon Day - South Atlantic Wrestling
10. Ray & Deana Housteau - The Amazing Race: Season 7
11. Steve "Chicken" Morris - Survivor: China
12. Dave "12 Pack" Amerman - VH1 I Love New York & I Love Money
13. Tracy Hughes-Wolf - Survivor: Micronesia
14. Ariel Tweto - WIPEOUT: Episode 3
15. Scotty Riggs - WCW / ECW
16. Sick Boy - WCW / ECW
17. Bill Apter - Pro Wrestling Journalist
18. Nathan Neff / Brace For Impact - Recording Artist
19. Neil Sharkey - Pro Wrestling Manager Extraordinaire
20. Alex Del Monacco - International Swimsuit Cover Model / Actress
21. "Mr. Terrific" - Reality Rumble Hardcore Champion
22. Coach Dodson - Spotswood Teacher / Pro Wrestler
23. Robert Royal - South Atlantic Wrestling
24. Jaimee Foxworth - Former Child Star from FAMILY MATTERS and VH1's Celebrity Rehab with Dr. Drew
25. Krista Stegall - Big Brother: Season 2
26. Kim Fore - DANCE MACHINE / Model
27.  J-Sinn - South Atlantic Wrestling
28.  Sherea Lloyd - Survivor: China
29.  Ken Stafford - Survivor: Thailand
30.  Billy Garcia - Survivor: Cook Islands / Reality Rumble TV Champion
 
 Ryan Haidet from Reality TV Magazine and Lynn DeVries from Reality Exploits will be covering the event live.  We would still love to make this event bigger and have more Reality Stars join us.  We would love to have Stars from MTV, VH1, Bravo, CBS, ABC, NBC, Fox, Fox Reality, The Food Network, everyone is welcome!!!  If you are interested in joining us for this event please contact Tim Lawler:  mrtrrfc@hotmail.com .  He would be happy to answer any questions you might have.  Also contact us if you would like to have a Reality Rumble fundraiser for a charitable cause in your area.