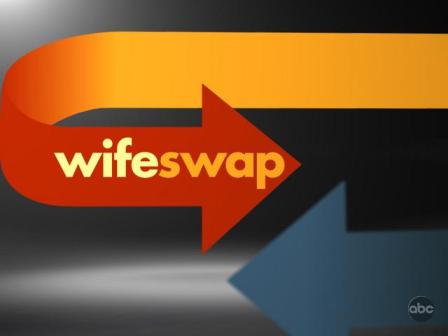 This week on "Tassie/Tyson," a buttoned up, perfectionist wife who won't tolerate a thing out of place swaps lives with a bounty hunter wife who feeds her family takeout tacos and doesn't mind if the kids end up wearing them, on "Wife Swap," WEDNESDAY, MAY 7 (8:00-9:00 p.m., ET) on the ABC Television Network. Each week from across the country, two families with very different values are chosen to take part in a two-week long challenge. The wives from these two families exchange husbands, children and lives (but not bedrooms) to discover just what it's like to live another woman's life. It's a mind-blowing experiment that often ends up changing their lives forever.

Terri Tassie (38) and her husband, Tom (46), run their home in Ohio like clockwork. Dad directs his kids' every move with a series of complicated hand signals. Their children, "Team Tassie" -- Collin (11), Trent (14) and daughter Shanie's (17) -- are expected to have their feet hit the floor at 7:00 every morning. Chores must be done before school and everyone's bed must be made; if there are any creases on the sheets, Mom makes the kids get out the steamer. All their kids are expected to work at Dad's car dealership in addition to completing their chores. Tom and Teri have no time for silliness or immaturity. They see no shame in being controlling, overprotective parents, and are determined to raise perfectly coiffed, high-performers, just like themselves.

Terri travels to the unkempt, chaotic Missouri home of Michelle Tyson (34) and husband Todd (37). Bounty hunter Todd is on call 24/7 and leaves home at a moment's notice, leaving Michelle at home looking after their four out of control children, Trevor (18), Mia (15), Michael 11 and Autumn (10). The family do whatever they want, whenever they want, and family meals often degenerate into food fights. Michelle does all the cleaning and spends most of her time waiting on her husband and kids. She and Todd are happy with the C's and D's, as long as the kids worked really hard for it. Mia (15) decorates her room with posters covered with curse words, and youngest daughter Autumn's language could make a sailor blush. Youngest son Michael seems motivated to do homework and thinks of his future.

In the first week of the swap, Michelle has a tough time and is overwhelmed by Tom's gesticulating hand movements and the family's schedule and chores. Uptight taskmaster Terri thinks pigs live better than the Tysons, and she has a hard time adjusting to the lack of discipline over the children. Terri tears down Mia's poster and is appalled at Autumn's use of foul language. In the second week of the swap, when the wives change the rules and turn the tables, Michelle tries to inject fun into the house by bringing in mess and fast food, but when the family goes against all her rules, an emotional Michelle leaves the house. Terri takes on the Tysons, forcing them to clear out their clutter against the clock, and accuses Todd of failing to provide a positive role model for his kids. At the end of the swap, when the families are reunited, will Terri relax and loosen up on being so perfect? Will Michelle clean up her family's act and ask everyone to pick up after themselves?

"Wife Swap" is an RDF Media production. It was created by Stephen Lambert ("Faking It" and "Junkyard Wars") and is executive-produced by Stef Wagstaffe and Michael Davies ("Who Wants to be a Millionaire"). Mike Gamson, Jon Grosskopf and Stephen Pettinger are the co-executive producers. "Wife Swap" is broadcast with Spanish subtitles via secondary closed captioning. A TV parental guideline will be assigned closer to airdate.