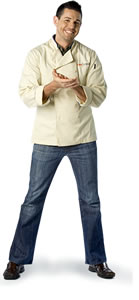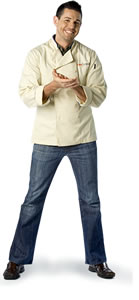 Ryan zeroed in on his desire to be a chef at the early age of nine when the "toys" at the top of his Christmas list included kitchen utensils, a wok and a food dehydrator. Growing up in the Central Valley of California he developed a passion for the culinary arts that has led to a very successful career spanning both coasts. His talent for creating simple, healthy and delicious Mediterranean and French-influenced cuisine drew long lines and wide acclaim at Myth Café in San Francisco, where he was chef from 2005 to 2008. Ryan strongly believes in "giving back" as much as possible and works extensively with Bay Area community organizations.
Q. Mark, RealityWanted.com: Ryan, what's up buddy, thank you for taking the time to chat with us today. Let's start by telling the viewers how you got started in cooking?
A. Ryan, Top Chef 4: I started at a really young age, my parents had a restaurants and I started cooking there at age 8. My parents have always encouraged and supported me, they pushed me and never discouraged me even when I made some not so delicious food.
Q. Mark, RealityWanted.com: We have a site that deals with reality TV and casting.  Tell me what the casting process was like for you. Did you apply once and make it on the show?
A. Ryan, Top Chef 4: Actually, I applied to season three and just about made it on the show and got cut. As a matter of fact Jen, Nick and I all applied to season three but made it on season four.
Q. Mark, RealityWanted.com: So did the casting/production company call you and tell you that you landed a spot on season four?
A. Ryan, Top Chef 4:  They did call me for season four but I still had to go through the same paperwork, application and video submission process. Let all of your members know this is a commitment and a lot of work. Don't go after these shows half assed, if you're going to try out do it at 110% and sell yourself.
Q. Mark, RealityWanted.com: That's great advice my friend, we have members who hope to join our site on day one and land a role but it can take time, sometimes years.  Let's talk about your experience on Top Chef. Talk with me about your least favorite and favorite quick fire or elimination challenge.
Top Chef 4:  I really liked last nights quick fire challenge, cooking with beer was great. Another favorite was going to the market and picking five ingredients to cook with. My least favorite was the chicken piccata fiasco. 
Q. Mark, RealityWanted.com: What special ingredients did you bring with you?
A. Ryan, Top Chef 4: I brought a hand blender. I cook very simply, I am the one two punch and I don't use smoke and mirrors. I also brought fennel pollen, bee pollen, and espelette.
Q. Mark, RealityWanted.com: When you watched the past few episodes I am sure you saw some things you didn't know happened or heard things you didn't know were said right? Did you catch Niki saying you talked too much or that you're long winded?
A. Ryan, Top Chef 4: I sent her a text after I saw her say I was long winded, she said it was the power of editing and she didn't mean it that way. I didn't like the remark made by chef Rocco Dispirito on the first episode either. It's also cool to see what the judges had to say about us since we don't get to see that part during the shows production.
Q. Mark, RealityWanted.com: Who did you bond with the most?
A. Ryan, Top Chef 4: I have friends for life, if there is ever a day to invite people to something like a wedding I would invite 5 or 6 of these guys in a heart beat. I did bond close with Rich and Stephanie but I left with tons of new friends.
Q. Mark, RealityWanted.com: We saw your explanation for the choice of food you cooked at the tailgate challenge, but do you think the judges were too harsh with you? One judge said your food wouldn't even be good in a fine dining arena?
A. Ryan, Top Chef 4: It was a tailgate cookout, so the food I made would not be good in fine dining. I am not a sports guy so you won't see me at a football game. I loved the interaction with the people at the tailgate and had a blast interacting with them. The fact is they didn't like my food and I am ok with that, but this show is about bringing your own creations and ideas and I wanted to mix it up a bit. I don't think I was the crowds least favorite.
Q. Mark, RealityWanted.com: Would you do it again?
A. Ryan, Top Chef 4: Yes, you always need a pretty boy on these shows. (Laughing)
Q. Mark, RealityWanted.com: Any tips for future Top Chef Applicants?
A. Ryan, Top Chef 4: Cook for yourself, don't cook against others. I remember the pizza challenge when I watched Rich and Zoi doing these elaborate pizzas and I thought I needed to step it up. I realized later I needed to just focus on myself and not worry about the other chefs. Also, don't read blogs about the show. There a lot of people who think they are critics and people need to remember this is a TV show and viewers are only getting to see small clips of us after a week of filming.
Q. Mark, RealityWanted.com: Thanks for your time today Ryan. Before we let you go, where can we try out your cooking in California?
A. Ryan, Top Chef 4: I am currently looking for my own location right now. My business partners and I are scouting out the right location and once we nail it down people can message me on Myspace at www.Myspace.com/chefryanscott 
Top Chef fans Don't Miss Next weeks Top Chef on Wednesday, April 23 @ 10 PM
Guest Judge: Johnny Iuzzini
This quick-fire is short and sweet.  The chefs must create a dessert that will satisfy the sweet-tooth of renowned pastry chef Johnny Iuzzini (Executive Pastry Chef at Jean Georges) with the winning recipe being featured in the Top Chef cookbook, due out in March.  Then, the chef 'testants get a lesson in improvisation from the legendary Chicago comedy troupe, Second City.



 



Find additional Top Chef Links on sirlinksalot.net