CBS's Big Brother is gearing up for another summer of fun! Are you an outgoing, intriguing, competitive person who would make the perfect BIG BROTHER House Guest?

About The Show

Are you up for anything and everything? Are you ready to live inside the BIG BROTHER House with a group of strangers while multiple cameras record your every move and sound 24 hours a day, seven days a week? Are you willing to compete for half a million dollars against other participants as aggressive and ambitious as you are? If you can answer yes to these questions, you just might qualify as a contestant on BIG BROTHER 11.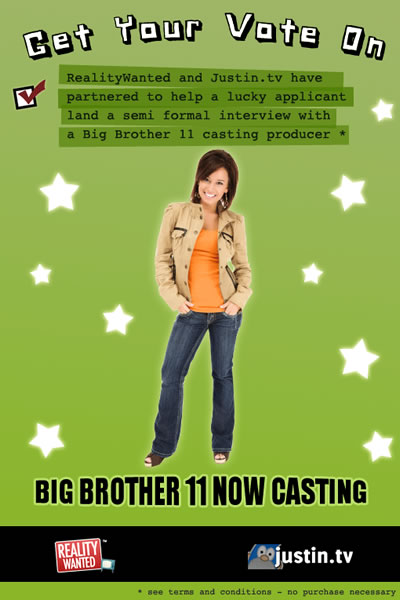 CASTING TIPS: Read Big Brother CASTING TIPS from Robyn Kass and check out other tips on our CASTING TIPS section.

Q&A from Robyn Kass casting director for Big Brother:




Q. If you're not picked for this season do you save information for another season?
A. Robyn:  No, we encourage you to keep auditioning.



Q. What is the biggest mistake you can do during an in person interview?

A. Robyn:  Lie. Don't "try" to be controversial- we can read right
through it. But on the other hand, if you have beliefs that are non
traditional we want to hear them.... even if you think you're offending
us- DO IT!



Q. What is the best way to make a video? What do you want to see from us?

A. Robyn:  I
don't want interviews from your friends and family, I want you. I don't
look for fancy editing or effects. The best advice is don't rehearse
your video! It should come natural, if you screw up, don't delete that,
it shows a real side to you that we love.



Q. Is it OK to apply more then once such as going to an open call then sending in a video?
A. Robyn:  I'd suggest doing one or the other, but it won't hurt if you decide to do both.



Q. Does it help to send gifts with the application?

A. Robyn:  NO!



Q. Is it better to send in the application early or wait until the deadline?
A. Robyn: The earlier the better. We have more time to go over everything, the days before the deadline, we get flooded.



Q.If I am called to send in more information does that mean I will be
called back again?
A. Robyn:Nope, it means you probably didn't send everything
needed to apply.



Q. What is the best photo? A photo that really looks like you.
A. Robyn: Don't
send one from 10 years ago when you were 20 lbs lighter and more hair.
Send a good clean close up and a full body.... you should be SMILING.
No hats.



Q. You probably get thousands of applicants do I even have a chance.


A. Robyn: People
have to remember, thousands of people apply for the show every season
and only 12 - 14 make it every year. That's the bottom line. You have
to keep trying. We choose people for the show from the people who apply
to be on the show. You won't get on if you don't apply, bottom line. We
watch every single tape that comes in, we read every email and watch
every open call. If you want to be on the show- apply.


Contest

**RealityWanted and Justin.tv are offering another way to apply to be on Big Brother. RealityWanted and Justin.tv are helping out Kassting Inc by giving applicants a unique opportunity to interview with a casting producer. Big Brother is one of the most popular and most applied to reality television programs in the world. Now RealityWanted is giving a lucky applicant a chance to be seen by a Big Brother Casting producer in a semi formal interview.

Applicants can apply to be a contestant on Realitywanted.com and a member with the most votes will have an opportunity to be interviewed by a casting producer. At least one of the top 10 voted applicants that apply to Big Brother 11 on RealityWanted.com and meet the eligibility requirements will be given the opportunity for a semi formal interview with the casting producer. No purchase necessary**