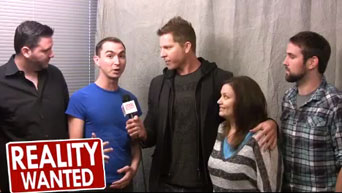 The producer behind The Amazing Race, Bertram van Munster, has teamed up with Ron Howard and Brian Grazer for a new reality show, The Great Escape, premiering on TNT this summer. Each week, three teams will compete to make their way out of castles, sunken ships, prisons and other dramatic locations. In order to escape, they'll have to be the first to overcome obstacles and solve puzzles in order to win the weekly grand prize of $50,000.
Our own Mark Long met up with the casting directors (Paul Gordon, Rane Laymance, Kristin Malley, and Luke Verge) of The Great Escape to get some more info and find out what they're looking for. They want "outgoing, fun, adventurous, people who have some smarts". Those interested in applying for The Great Escape can do so by clicking here. They'll need info about you and your partner, along with photos and your contact information.
Mark wasn't about to let these casting directors go without convincing them to take part in a little competition of their own. Check out their wheelbarrow race, and more information about The Great Escape, in our YouTube video!