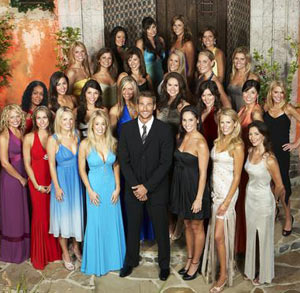 About The Bachelor Season 11:
Brad Womack, 34, a successful, self-made entrepreneur, has been selected to star in the 11th edition of ABC's popular romance reality series when it returns this fall on MONDAY, SEPTEMBER 24 (9:30-11:00 p.m., ET), on ABC with a special 90-minute season premiere. It doesn't hurt that his sexy good looks make him "The Bachelor's" own "McSteamy."

For all his hard-earned accomplishments, there is one thing missing from Brad's life: He is ready to find his soul mate, settle down and have the family life he has so long desired. But Brad's heart, determination and commitment have already given him a good head start.

Currently residing in Austin, Texas, Brad co-owns four lucrative bars with his two brothers, Chad and Wesley, both of whom are married. With the success of these establishments, they are now looking to expand into other ventures and are in the early stages of developing a hotel. 
The Bachelor Season 11 Cast:
Jenni Croft,DeAnna Pappas, Bettina Bell, Sheena Stewart, Hillary Reisinger, Kristy Katzmann, Estefania "Stephy", Jade Beazley, McCarten Delaney, Lindsey, Sarah, Solisa Shoop, Michele Leavy, Mallory, Erin, Jessica, Juli, Kim, Lori Langley, Melissa Buschel, Morgan, Natalie, Rigina, Tauni Nessler, Susan.
The Bachelor Season 11 Air Date:
Monday, Sept. 24, 2007

The Bachelor Season 11 Winner:
None Chosen