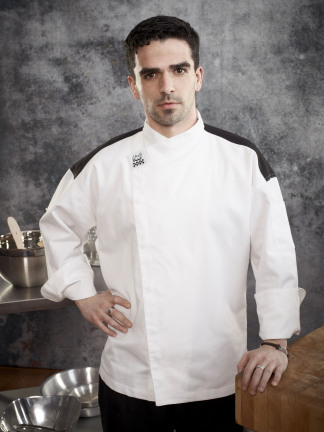 by Todd Betzold
The first Fashion Night took place in Hell's Kitchen and even with the models distracting the Blue Team throughout dinner service, both teams were able to finish dinner service, but there can only be one winner. The Red Team were named winners, so the Blue Team had to nominate two chefs. With Clemenza Caserta and Guy Vaknin both up for elimination, Chef Ramsay decided to send Guy home. Today, we got an exclusive interview with Guy as he talked about experiences in Hell's Kitchen.
Q. Todd, RealityWanted: What made you decide to try out for Hell's Kitchen?
A. Guy: I actually got an email from one of the magazine's here in New York about the tryouts for Season 8. I emailed them back and they got me an interview right away. I was auditioning for Season 8 and after I didn't get accepted for Season 8. For Season 10, I got a callback from the recruiter here and she told me I had to come back and be on the show, so I went back and I got in. There is no explaining behind it, but I have been in the field for the past seven years and I think I am tough enough to withstand Hell's Kitchen and Chef Ramsay.
Q: Todd, RealityWanted: What was that experience like then, working in Hell's Kitchen with emotions running high and working under Chef Ramsay?
A: Guy: It was a totally different experience for me. Before Hell's Kitchen, I've never worked under a chef. I worked in the family company and I kind of got thrown into the water and told to run the kitchen now, so it definitely was a different experience. I did have a commander in the army and he was very similar on me with the demands and the screaming and everything around it, so I didn't feel uncomfortable.
Q. Todd, RealityWanted: Is there anyone that you think should've been eliminated before you? I know Clemenza was mentioned by everyone last night, so do you feel he should have gone home before you?
A. Guy: It was a disappointment in the chef's choice. I really thought there were a lot of people that should have gone before me. There is a long list over there, but you know it's a reality show and Gordon Ramsay makes the decision and I respect whatever he decided. I look up to him and he is a very sharp and good chef. I know what he decided and I said thank you, it was a great opportunity and I did my best.
Q. Todd, RealityWanted: What's the biggest thing you're going to take away from this experience in Hell's Kitchen?
A. Guy: I learned so much. Like I said, I've never worked under anyone, so that was a big experience for me and I learned how to respect that chain of command. I actually saw how a traditional system works in the kitchen and I definitely took a lot of it to my kitchen afterwards.
Q. Todd, RealityWanted: Are you rooting for anyone now that you are off the show?
A. Guy: I am definitely rooting for my boy Justin. He's a great chef and he's very good at what he does and very creative and I hope he wins.
Q. Todd, RealityWanted: Where are you cooking now and what's next for you?
A. Guy: For the past year, I have been running the family company. We tripled in size in the past year, everything is going great. I had 30 cooks because I left the company and I am opening my own place, so I went on a new adventure. I am opening an organic, vegetarian sushi. I am opening July 1. It's going really good and I have a great following on the store and the product. The show has given me a lot of publicity, which is great. I definitely want to give thanks to FOX for giving me the opportunity.
Hell's Kitchen airs Mondays and Tuesdays at 8/7c on FOX.
(Image courtesy of FOX)
Follow Todd @tbetzold