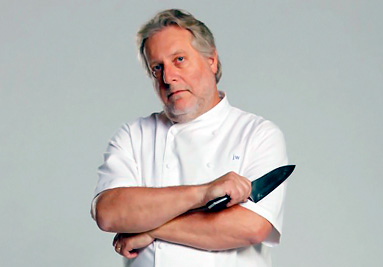 by Chandra Clewley
Jonathan Waxman: Author, Restaurateur, Chef, Rock and Roll Musician, former Car Salesman, Jedi Knight and Top Chef Master; was eliminated from Top Chef Masters Season 2 last night. A fan favorite, we were all sad to see the "Man himself" go home, but Jonathan was actually glad to return to his family in New York City, after dealing with homesickness and missing a birthday and Thanksgiving while taping in Los Angeles. Jonathan sat down with Reality Wanted today to let us know what his experience was like on the show.
Chandra, Reality Wanted: How did you decide to go on Top Chef Masters?
Jonathan:  I'll tell you honestly, Tom Colicchio said "Jonathan, I think it's a good thing, just do it." And so, I did it.  
Chandra, Reality Wanted: What was your experience like on the show?
Jonathan: I loved doing the show. The two best things were getting to know my fellow colleagues better and working with them because you don't get a chance to do that in life. We meet each other at events and that is about it. That was great! The second thing was working with the people from Top Chef. The production crew was amazing, they really made us look good, and there were times when we really didn't look good! 
Chandra, Reality Wanted: How do you feel after watching the show, about the Star Wars references to you?
Jonathan: I know, that is silly, but I'll take it, why not?
Chandra, Reality Wanted: What happened last night with the elimination challenge?
Jonathan: I was exhausted at that juncture. I was fat and out of shape. I thought I did the best that I could do. Remember the competition isn't really about being against each other, it is really about how well you do yourself. I was very happy with the way things turned out. That is the best thing about being a chef, you have to be true to yourself or it doesn't work.  But you love it, that is how life is. 
Chandra, Reality Wanted: How many of the chefs on the show, did you already know?
Jonathan: The first show, I didn't know Ludo (Lufebvre) at all and had never met him. Graham (Elliot Bowles) was not on my radar either. Obviously, Mark Peel worked for me for years and I knew him and Wylie (Dufresne), I adore. He is the greatest guy in the world. It was a chance to get to know everyone! And of course I knew Rick Moonen well. We were a support group for each other through the show. If it wasn't for Susan (Feniger) I don't know if I could have made it past the first round. She was the bright light, she was always telling us a dirty joke, and just delightful.  Let's face it, cooking is hard enough but cooking under time and the TV world pressure, is very difficult. I have incredible respect for the guys that do regular Top Chef, I had it pretty easy compared to them.
Chandra, Reality Wanted: How did you decide to become a chef?
Jonathan:  Well, I was a rock and roll musician, at one point I was stuck in Hawaii after our group broke up. There are only two things to do in Hawaii, sell drugs or work in a restaurant. I wasn't very good at the first thing, so I chose the second thing, and that is how I got into the restaurant business. I wasn't a cook, I worked in the front of the house.  When I got back to Berkeley where I grew up, I started working in restaurants. A weird thing happened, I was selling Ferrari's and Alfa Romeo's and the guy that owned the business, his wife suggested I go to Tante Marie's Cooking School in San Francisco. I met Mary Risley at the school and she is the one that really got me started. She was the one I suggested I go to France and go to school there.
Chandra, Reality Wanted: It seems like you have mentored a lot of chefs. What kind of advice do you give to people that are new to the industry?
Jonathan: That is a tough question. Obviously my motto is "keep it simple" but the thing I think about young chefs is that it is really important to be able to edit yourself. That is the hardest thing. How do you get all of those things and deal with what you want to do. Way back when, I had a chance to read Richard Olney and he is the father of that philosophy. If you can make a chicken taste good, that is a good way to start to become a chef. 
Chandra, Reality Wanted: What is next for you?
Jonathan:  I am really getting involved with this child nutrition bill in Washington DC. What I want to try to do is diversify more and give back. I am starting to work with a farm in New Jersey to raise food in a conscientious way. That is the fun part of what I do. 
Don't miss next weeks Top Chef Masters Season 2 finals at 10/9 c on Bravo
(Image courtesy of Bravo)
Follow Chandra at http://twitter.com/ChandraClewley
For more Top Chef Masters links visit Sirlinksalot.net