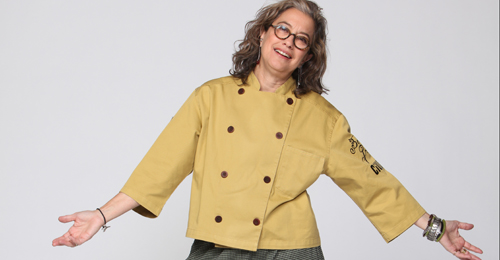 by Chandra Clewley
Los Angeles grande dame of Latin cuisine, Susan Feniger, was ousted from Top Chef Masters last night with her kaya toast dish, an homage to Singapore street food. Susan is one of Los Angeles's staple chefs and when she isn't starring on various television shows (in addition to Top Chef, she also appeared on Too Hot Tamales on The Food Network) she is working towards fund raising for the dear to her heart  Scleroderma Foundation, planning restaurant openings and publishing cook books. Today, Susan spoke with Reality Wanted about her tenure on Top Chef Masters.
Chandra, Reality Wanted:  What inspired you to go on Top Chef Masters?
Susan: I was pressured to do it by all of the managers of our restaurants. I had no desire to do it, I don't think of myself in that way of competing. The management team was saying that people love this show, and that I had to do the show.  I was playing for a charity so the best case scenario was the Scleroderma research was going to get some funding and so I thought I would just go for it. I just was going to push myself to do it, it was a big year of change for me anyway, with STREET opening up.
Chandra, Reality Wanted:  What happened with the challenge last night?
Susan: The kaya toast is one of those dishes that have been on the menu at STREET since the day we opened, and it has literally taken off! People who eat it are totally blown away by it, it is Singapore street food. When this challenge came up, I felt like Aphrodite is the Goddess of reproduction, so I wanted to do a dish with eggs. That is where it started. Kaya Toast is one of those dishes where people say that it is almost orgasmic. That it is the most amazing flavor. Without a doubt, it was the most complicated dish I made in the entire series. It is very delicate to make and it takes a large amount of time to prepare it.  For one person to cook that in the amount of time we had, I mean I had 2 big bowls of 40 yolks each and I had to try to keep them from scrambling by stirring constantly. I had to make a commitment to do this and make sure that I had time to do this. Ginger, coconut, and soy are all aphrodisiacs. It is such a complicated dish to prepare and it definitely wasn't just a sandwich. This particular dish blows people away and it is one of those dishes that people say, "If you go to this restaurant, you HAVE to try this dish." So, I felt this was the perfect dish for the challenge. I also felt like it was a good dish to go out on too.
Chandra, Reality Wanted:  It seems like there is a common thread with chefs that they pick a type of cuisine to focus their career on. How did you come to choose Latin food?
Susan: My background in the food world is varied. My first restaurant was City Restaurant, which was very eclectic. All of my training was in strict French restaurants, I worked in French restaurants, I opened City and then it ended up that I had moved to LA and we used to eat tacos down at a place at Western and Melrose. So when we went to open a 2nd restaurant, we thought "should we do noodles or tacos?" and we decided on tacos. I took my first trip to Mexico and fell in love with the culture and the people.  I had all this training in French kitchens and now all of a sudden I am learning about chipotle, achiote, and tamarind. I thought they were fantastic flavors! I had already taken a trip to India. I fell in love with Indian kitchens too. I had worked in France even, but all of a sudden I fell into this ethnic style of cooking. I opened up the first Border Grill, then another, then had a television show. It just sort of unfolded.  When I opened up STREET it was because I loved India, Turkey, Israel and the food on the streets. I wanted to do something that wasn't Latin.
Chandra, Reality Wanted: What sets the LA food scene apart?
Susan:  LA is very progressive, open, fun and political. People come here with independence and free spirits and acceptance.  We have an appreciation and availability of many ethnic foods. We have the advantage of being able to explore different cuisines. We also have an agricultural state with artichokes, avocados, wine country, and unbelievable produce. When I first came here, there was only one farmers market, now there is one every day. We are gifted to have that all year long too. The food world is very close, we share information, we help each other. There is a comradery here that feels special too. 
Chandra, Reality Wanted: Last night you were the last female standing. What was that like?
Susan: I have worked with men for so long in this industry and I don't really find myself thinking in that way. I sort of see us all as chefs, and it doesn't really play in the picture for me. It just isn't something that comes into my mind set. 
Chandra, Reality Wanted: What is it like to have your food critiqued?
Susan: It is always interesting. These are all opinions.  I have always thought that I just need to cook the food that I really love. When someone comes in and eats it, they should be blown away. Even dishes that have been on the menu for ten years, you need to taste it and ask yourself if it is the best dish that it could be. If not, how do you make it better?  You have to stop and take the extra time to make sure that everything tastes fantastic. 
Chandra, Reality Wanted: What are you working on now?
Susan: So much is going on! We just opened the Border Grill Stop which is at the bus stop at Figueroa and Wilshire. We are opening a taqueria at LAX that is opening in 2011. We are brainstorming on Border Grill London. We want to expand STREET and make a STREET cookbook. I do Scleroderma Research Foundation fundraising events and one is coming in the fall in New York City. I sit on the board of the Gay and Lesbian Center, and I have a huge fundraiser happening in August.  I am working on many fronts and fortunately I have a profession that gives back to me and that I just love.
Top Chef Masters airs Wednesday nights 10/9 c on Bravo
(Image courtesy of Bravo)
Follow Susan Feniger at http://twitter.com/EatatSTREET
Follow Chandra at http://twitter.com/ChandraClewley
For more Top Chef Masters links visit Sirlinksalot.net