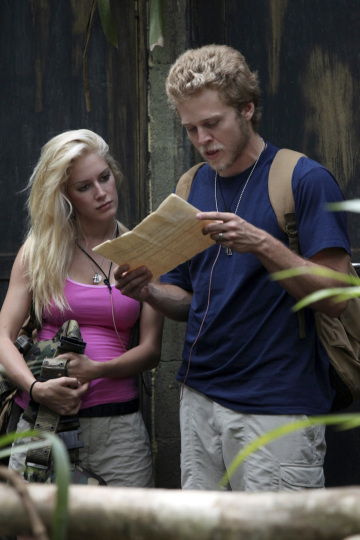 By Eric Stein

Last week, America was introduced to the re-boot of "I'm A Celebrity, Get Me Outta Here"…or as I like to call it, "I'm A Fame Whore, Get Me Airtime."  This is car crash television at its finest...no matter how horrifying it is to stare, I find that I just can't quite look away.  And that's why I find myself watching every second and writing columns about this atrocity – it's just so completely awful, that it becomes magnificent. This is the best worst show that I've seen in ages.  I actually feel guilty rewarding the producers by even calling further attention to this dreck, but I'm an unadulterated reality TV junkie…I just can't help myself.  Where do I even begin in dissecting this madness?  This column's target will be the "celebrities" themselves. 

Man oh man would I love to get a hold of the casting short list for this show.  Prior to casting a show, the casting producers make a wish list of sorts.  Suffice it to say, I don't suspect that Frangela were on the top of said wish list.  I have never heard of Frangela.  I never should have heard of Frangela.  And if I, a self-fashioned entertainment guru, haven't heard of them – very few people have.  From what I can tell though, they are apparently the fore fathers of a new form of entertainment – comedians who aren't funny.  They could have saved money on John Salley's contract by just painting the set pieces and letting us watch them dry.  I find it extremely hard to believe that he was in their top 300 choices for former athletes…what, was Belmont Stakes winner, Summer Bird, busy?  Patti Blagojevich…um, her "fame" is that her husband is an accused criminal.  If that was the sole criteria, why not just have Ruth Madoff as well?  At least her husband's crime was a little more prolific.  I've actually worked with Torrie Wilson before.  She's a former Playmate if nothing else. 

Stephen Baldwin is creating a whole new spin on entertainment in his own right.  He has reinvented what he is famous for.  I'm really not sure that he was ever famous in the first place, but he's surely more known for his never-ending reality TV appearances than he is for any alleged acting career.  Celebrity Mole: Hawaii, Celebrity Mole: Yucatan, Ty Murray's Celebrity Bull Riding Challenge, Celebrity Apprentice, and now this.  There are endless people they could use on these shows, so why do we need to see his tired act for the 5th time?  On the sliding scale of Baldwins, Daniel is even worse.  He's like the me of the Stein family.  My older brother is a Harvard graduated lawyer.  My younger brother works for the biggest, most successful asset management institution in the country.  And I was on reality TV.  Talk about a black sheep.  And since the show seems to love the lesser siblings of actually famous people, Holly Montag is allegedly joining the cast this week.  Bryan Spears, the little known brother to Britney and Jamie Lynn, is probably en route to Costa Rica as we speak.  Apparently the producers think it's fair to allow contestants to come and go as they please, not be subjected to vote offs, and still be allowed to win the prize.

I'd be remiss to not at least mention the stars of the show, Speidi.  I actually winced as I typed that, but it's true.  For me, things get a little cloudy with Heidi "we were possessed by the Devil" Montag and Spencer "I made those labels myself" Pratt. Are they actors?  Are they real people?  Are they actors portraying themselves? It's a little tricky to decipher what's real from fake when you are dealing with people who are accustomed to portraying caricatures of their own selves.  The thing is, people are giving them far too much credit.  Left and right, I've heard reality experts touting them as the smartest people in TV.  That is assigning them far too much self-awareness.  I believe what you see is what you get.  I don't think this is a conscious ploy to get airtime or ratings or stardom.  It's merely a side effect of their conduct.  It just so happens that it's really freakin' entertaining to watch people constantly make asses of themselves.  Rude, unappreciative morons make good TV.  But to assume that they are doing this intentionally would be false.  Some of it, yes…but most of the truly appalling parts, no.  I believe them to be honest to goodness brats.  Self-entitled, delusional, spoiled buffoons…and that just so happens to be engaging.    Their antics would be dreadful in real life…thankfully, we get to watch them from afar.  They told off the freakin' head of NBC.  I find it very hard to believe that they were not fully aware of what they signed up for, so why are they acting like they weren't?  Make no mistake about it…Spencer Pratt is a grade A asshole.  His celebrity is a sham.  Thanks to the US Weekly's and TMZ's of the world, he has been allowed and even encouraged to buy into his own pseudo-fame.  Let me point out that The Hills is viewed by roughly 3.5 million viewers an episode, once a week.  Just as a point of comparison, when I was on Big Brother, it was viewed by roughly 8 million viewers, three times a week.  And let me assure you, I'm far from a celebrity.  And yet, this guy thinks he's the cock of the walk.  Well, strut your feathers all you want Spencer, but I'm not buying it. 

Here's who I would prefer to see battle it out in the jungle (and my second choices, if my first choice were to be unavailable or decline):

-    Ponce de Leon; World Explorer and Founder of the Fountain of Youth
    (Vasco de Gama)
-    Lorena Bobbitt; the world's foremost expert on penis-cutting
    (Sarah Proctor, accused witch during Salem Witch Trials)
-    Spuds McKenzie; deceased surfing dog extraordinaire
    (Comet Tanner, star of the hit series Full House)
-    Jonathan Lipnicki; that kid from Jerry Maguire – but I want him to be the age and character he was in the movie and keep yelling, "do you know bees and dogs smell fear?" (Kavya Shivashankar, winner of this year's Scripps National Spelling Bee – the winning word was laodicean)
-    Betty White; star of Golden Girls
    (Angela Lansbury, star of Murder She Wrote) – What do they have in common, you may     ask?  Nothing.  They are both old.
-    Bernie Getz; killed a man in self-defense on the NYC subways….if Rodney King can be a reality star, why can't he? 
    (Ho Chi Minh, they both appeared as lyrics in Bill Joel's We Didn't Start the Fire, so     why not?)
-    Rod "He Hate Me" Smart; star of the defunct XFL and grammatical wizard
    (Maurice Clarrett...not entirely sure when he gets out of jail, so he can play via satellite)
-    The Bush Twins; former presidential daughters and reknowned trouble makers
    (Patty & Selma Bouvier; famous twins and animated stars of The Simpsons or The Sweet     Valley High twins, stars of their own tween book series)
-    Kevin Federline; America's most famous ex-husband
    (Jordan Bratman…I've always wanted to know him better to understand why Christina     Aguilera married him)
-    Placido Domingo; the Spanish tenor
    (Dizzy Gillespie, American Trumpeteer who passed on in 1993)
-    Perez Hilton; the notorious fame whore would agree to anything to get on TV
    (Harvey Levin, that bozo who runs TMZ, so he could get a taste of his own medicine)
-    Anna Dunn; cut in the Vegas round of this year's So You Think You Can Dance and possibly the hottest girl I've ever seen in my life…we need a token hottie
    (Courtney Galliano from last season's SYTYCD….Kherington went on to star in the     remake of FAME, Chelsie is starring on Dancing With The Stars…I'd hate for her to feel     left out)

Maybe I can get on season 2.  Hey, I need the payday so I can stop writing articles about these awful (yet simultaneously riveting and wonderful) shows.  Until then though, I've gotta keep on writing so I can afford to eat lunch tomorrow.  Later in the week I'll be examining the unabashed blatant producer manipulation, the legitimately dangerous challenges that left Mr. La Bamba himself mauled by angry rodents, and more on the king of all douchery, Spencer Pratt.  I figure, we're all already wasting 5 hours a week that we will never get back by watching this ludicrous show, so what's wasting 5 more minutes to read my equally mediocre column?  Hopefully much like the show, you will find that while my recaps are epically painful, somehow you just can't quite take your eyes off of them.  Stay tuned for more of my installments on I'm A Fame Whore, Get Me Airtime.