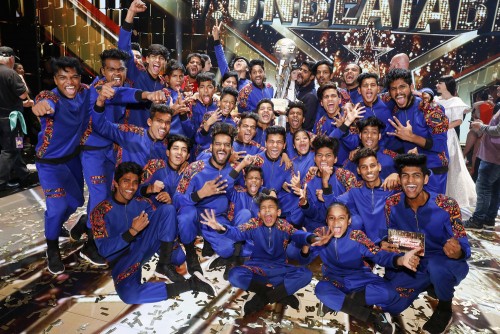 In the season two finale of NBC's hit series "America's Got Talent: World Champions," the India-based dance crew V.Unbeatable were crowned winners, claiming the ultimate title of World Champion.
According to the NBC press release, "The group originally captivated audiences when appearing on Season 14 of "America's Got Talent." After placing fourth, the group looked for a second chance at winning as one of the elite group of acts on "AGT: The Champions." 
In their return, the crew immediately impressed the judges and earned the Golden Buzzer from Howie Mandel. A pass straight to the finals. Mandel said, "When it comes to winning talent, V.Unbeatable not only checks every box but can also jump and dance over them."
"V.Unbeatable, originally named Unbeatable was founded by Vikas and Om Prakash. After a horrible accident during a group rehearsal, in which Vikas was injured and passed away, the group renamed itself V.Unbeatable (for Vikas Unbeatable) in his honor and continued to pursue Vikas' original dreams for the group," says the press release.
Executive producer and judge Simon Cowell  said, "I loved V.Unbeatable from the minute I first saw them perform. They always give it everything, they perform from the heart and they just keep getting better and better! Congratulations, you're all incredible and I couldn't be happier for you."
Auditions for season 15 of "America's Got Talent" are currently underway and open until March 4th.  Interested acts can visit www.AGTAuditions.com to submit a video online.
Photo by: Trae Patton/NBC