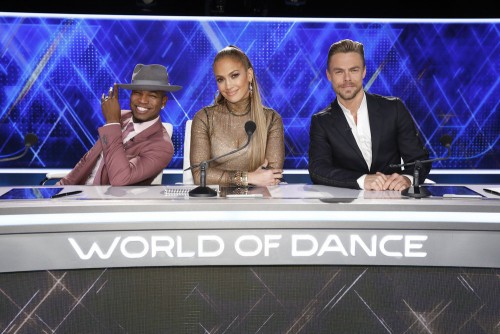 Last night, season 3 of the hit dancing competition "World of Dance" premiered on NBC led by a judging team of extraordinary dance superstars Jennifer Lopez, Derek Hough, NE-YO and hosted by Scott Evans.
"World of Dance" "brings the world's elite dancers together to compete in epic battles of artistry, precision and athleticism. Solo dancers will compete against duos and crews in an unlimited range of dance, including hip-hop, popping, locking, tap, ballet, break dancing, ballroom, stomping and more," according to NBC.
Dancers are given a platform to showcase their talents and the opportunity to receive a life-altering grand prize of $1 million. In season one, French duo "Les Twins" were the first winners crowned, followed by junior team hip-hop group "The Lab" who took home the title and $1 million in season two.
This season, the score has been raised from an 80 to an 85 to get through to The Duels from The Qualifiers. The new score makes it even harder for new contestants and many from previous seasons wouldn't have passed the first round.
All new episodes in season 3 of "World of Dance" air on Sundays at 8pm ET on NBC beginning March 3rd.
Photo by: Trae Patton/NBC