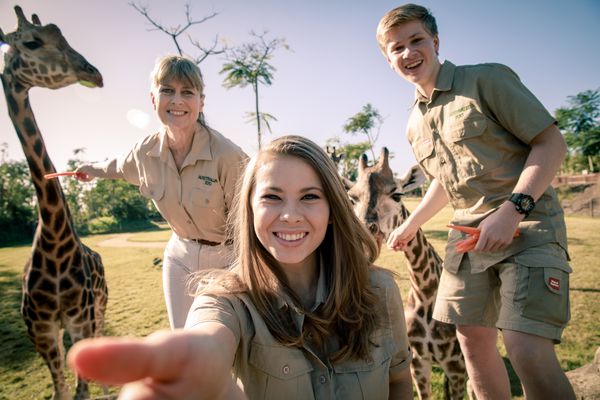 Animal Planet announced the all-new series, "Crikey! It's the Irwins!" debuts October 28th with a global series premiere. The Irwin family returns to the network for the first time to carry on the legacy of their late husband and father, Steve Irwin.
Terri, Bindi and Robert Irwin "return to Animal Planet in a new series that gives audiences an all-access, front row seat to experience the sights and sounds of their thrilling wildlife adventures around the globe and the amazing animals that continue to inspire their conservation efforts," says the press release. "From running Australia's largest family-owned zoo, Australia Zoo in Queensland, to crisscrossing the world protecting and celebrating the most wondrous animals on the planet, The Irwins work thoughtfully and tirelessly to carry on Steve's mission to bring people closer to animals and ignite the connection that will ensure an abundance of wildlife for generations to come."
The upcoming season features the Irwin family working at the world-class Australia Zoo with over 1,200 animals and showing their care and expertise for wildlife. They rescue, rehabilitate, and release some animals, and will also travel and explore different locations.
It's the family we've waiting so long to return, don't miss the series premiere of "Crikey! It's the Irwins!" on Sunday, October 28 at 8 pm ET on Animal Planet.

Photo credit: Animal Planet