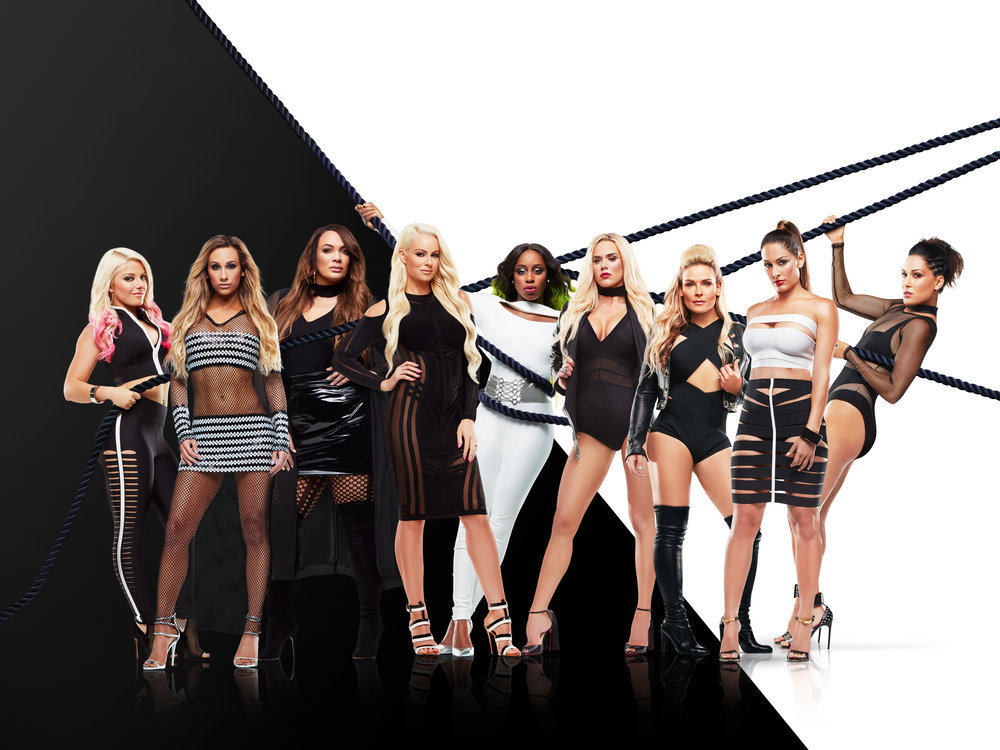 by Ashley Thompson
E! and WWE are bringing us the seventh season of Total Divas on November 1st! Brie Bella®, Nikki Bella®, Naomi (Trinity), Natalya (Nattie), Lana and Maryse will join newcomers Carmella, Nia Jax and Alexa Bliss for a new season of feisty sass while giving us a look into their demanding schedules and personal lives.
The Bella Twins struggle with their off-season, tying to decide on a comeback. Nikki, who is also Co-Executive Producer, gets a chance at Dancing With the Stars while celebrating her engagement to John Cena®, and Brie is balancing being a working mom and loving wife to WWE Superstar Daniel Bryan®.Naomi wants to move up the ranks in wrestling while keeping her marriage to WWE Superstar Jimmy UsoTM feeling new. In the meantime, Natalya takes a run for the title of SmackDown LiveWomen's Championship at SummerSlam®. Lana is forced to chose between her burgeoning career and starting a family with WWE Superstar Rusev®. Maryse and husband "The Miz®" endure another burglary at their Los Angeles home leaving Maryse eyeing Vegas for a new life.
Newbie Carmella wants to live happily ever after with boyfriend WWE Superstar Big CassTM but can they wrestle a long distance relationship? Another uncertain freshman is Alexa Bliss, who is questioning her relationship with NXT Superstar Buddy MurphyTM. More fresh blood comes in the form of "The Rock®"'s cousin, Nia Jax. Thanks to the help of the other Divas, she may get a chance to find love.
Season 7 of "Total Diva" premieres Wednesday, November 1 at 9 pm ET on E!. Get a glimpse at this season's Divas, head to: http://eonli.ne/1pw0k68.
Photo by: Josh LaCunha/E! Entertainment