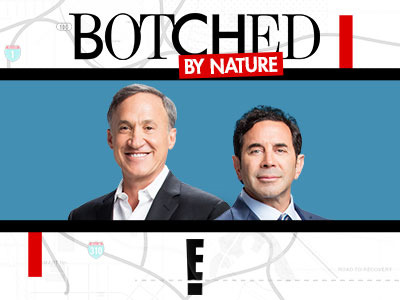 The doctors are in Atlanta seeing Starrina. She has hemangioma on her face, which is a non-cancerous growth that forms from an abnormal collection of blood vessels. She was born with it and diagnosed with hemangioma early on, but Dr. Nassif believes this could be something different. Mostly because hemangioma's tend to go away as you grow older, not get worse and disfigure you. Between the ages of 6-12 she had 4 surgeries. He believes this is vascular malformation. All Starrina wants to do is sing in the choir without the embarrassment and worry that people are criticizing her face. During her examination they confidently tell her that this is definitely not hemangioma. Their plan is to attack the vascular malformation in two stages. Stage one is embolization which is an injection of foam that shrinks blood vessels. Stage two will be surgery in Los Angeles to make it smaller.
Dr. Nassif brings in Dr. Greg Levitin, the world expert in vascular malformations, to assist him in Starrina's surgery. The task is to do surgery within 3 days of the foam injection. The embolization is meant to remove some of the blood from the lip to reduce swelling and reduce bleeding during surgery. First they'll remove a triangular piece of tissue from her lower lip then make incisions inside vermouth and remove as much as the mass as possible. After doing as much as they safely can to fix her lip, Dr. Levitin feels one more embolization procedure will bring her to an 85% improvement. When we see her again she is at a 65% improvement and you can already see her smile again, which was hidden under the growth before. Dr. Nassif wants to plan a second procedure because now they are confident they can remove the malformation.
While on the road they often visit previous patients and this time they are at the Purple Door Salon to visit Dwight. Dwight was on for his pinched nose last season, you may remember him from Real Housewives of Atlanta. He is as eccentric and happy as ever thanks to Dr. Nassif's great work on his botched nose. Next is snow tubing in Michigan and to see another patient.
24 year old Kelsey from Michigan was born with no breast tissue. She has hypoplastic breast syndrome which means she has tuberous breasts that wanted to develop into breasts but never did. Basically glandular failure from birth. By the age of 14 one breast had started growing but other hadn't. Eventually she gave up on expecting her chest to develop. When she was 20 she decided to have breast surgery but her father talked her out of it for fear she would turn into a stripper. It's not a big deal for her fianceé but it is definitely a huge deal for Kelsey. The biggest hurdle was not being able to breastfeed her son, and that's when she realized it could possibly be a medical issue, not just a cosmetic issue. Although Kelsey wants D size breasts implants, Dr. Dubrow feels like a smaller implant would cause less complication in the long run.
Since Kelsey has zero breast tissue to start off of, Dr. Dubrow will create breast pockets under her muscle and place in the implants. Then he'll remove skin from her nipples so that they lay flat. If the implant is too tight it will cause major scar tissue. In the end Kelsey ends up with a small C cup. And she looks fabulous. Natural and confident, "I just wanna wear no clothes".
Photo by: E! Entertainment