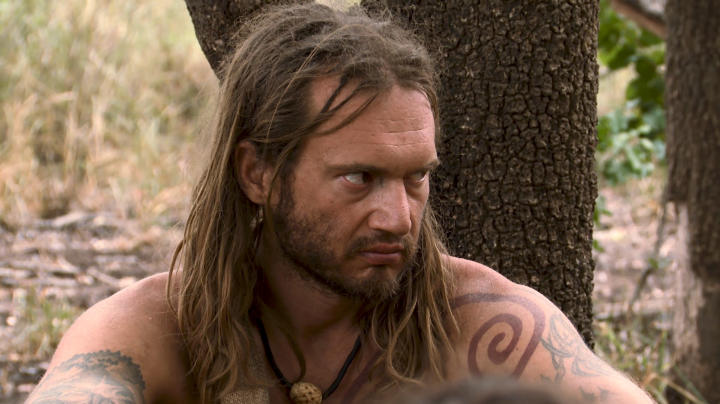 By Ashley Thompson
It is over 3 weeks of the 40 day, 40 night challenge and only 9 people remain. With only two weeks left, the group is starving and turning on each other. While some are using this experience to learn and grow, others are using it as proof they are capable.

The biggest beef is still between Darrin and Steven. You know that meme that's like, "Once you hate someone, everything they do is offensive"? Their feud is like that. Steven catches a turtle and Darrin immediately demeans it. But then Stacey starts making turtle soup and other's dislike her cooking skills. So she passive-aggressively yells around the entire camp, scaring off any potential nyala dinner from the hunters. So she goes on strike for 20 minutes. Then cries. Lucky for Stacey, Tawny is there to pick up the pieces but talk of a revolution begin. It doesn't make a lot of sense, though. Starvation is no joke, people.

With nothing but fish and turtle in their stomachs, the entire group is on the verge of blacking out. The group decides that starting their trek to the river, closer to extraction, is the wisest decision. Five miles up river promises more fish and big game but it also gets them closer to their extraction point before they are completely void of energy. But before they get to packing, Tawny collapses with sharp pains in her abdomen and Stacey calls for a medic. Unfortunately the medics have to take her to a hospital for evaluation, so Tawny is forced to tap out. And Ryan has no clue. The group rating lowers to 5.9.

Ryan seems to think that a group dynamic is the hardest thing in Africa to deal with, not the predators. He tells the group that he plans on taking a little walkabout and exclaims that he will be taking a small pot and a fire starter. Some in the group feel that they are being abandoned and that Ryan is being suicidal, encouraging him not to go. Others tell him to be safe. Oh, jee, nah... I think I'll be flippant about the whole thing. But is a lone survivor safe in the wilderness alone? Nevertheless, wearing horns atop his head, Ryan embarks on his solo journey.

So far he has run into poisonous thorns, a fruit tree and a rock monitor, the largest lizard by weight in Africa (who has toxic proteins in it's saliva that poisons prey. After a short struggle, Ryan gets the monitor off the tree and enjoys a bit of protein at his new shelter near a rock wall and a beautiful river. #thriving He does give a thought towards the group, expressing his hope that they find some of his sugary fruit, too. He's also starting to realize it's just him and the big cats. The shelter doesn't get finished until dusk, leaving him partially vulnerable to large prey and with no security. But his XLR rises to 7.5.
Photo by: Discovery Channel