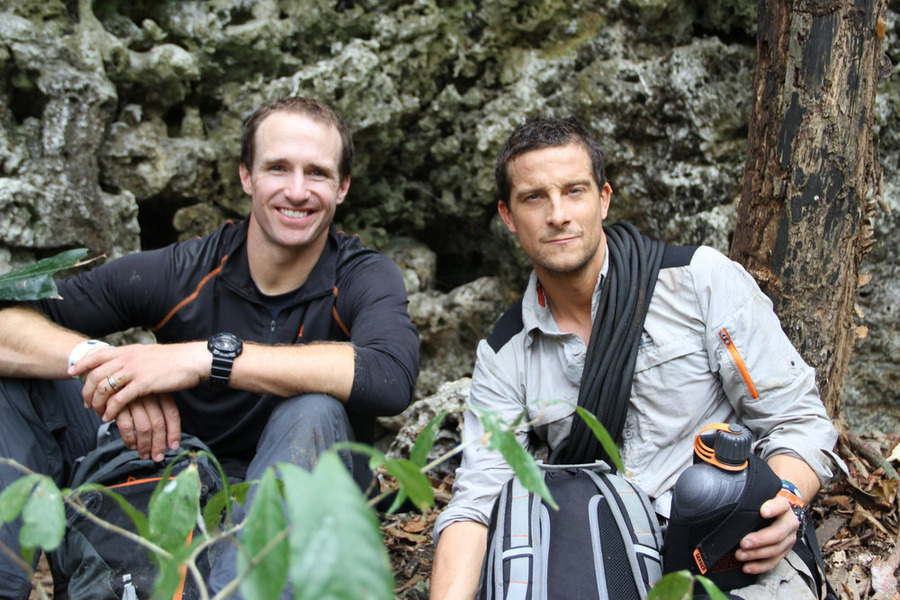 By Ashley Thompson
Drew Brees may have done vacations in other countries because he's one of the best NFL quarterbacks of all time, but he's never done exotic like this before. He's in Panama headed to the jungle with Bear after being dropped out of the helicopter into the river. We're terrified, too, Drew. Bear, quit yelling at us from the helicopter... we can't hear you!

Their plan is to cross the jungle up to a plateau towards camp. Day two they will find a hidden river leading to civilization. Easy peasy. First they have to climb out of a dark cave from the river and escape all of the dangerous things that could be below them (or above them with bat poop).

Interview time: Drew was all about sports as a child. In middle school his peers were ruthless about the scar on his face. As a player he hurt his throwing arm and was scared he would never play again. Bear comes in with his own injury story about breaking his back in the military, the two bond over was you think is the worst becoming your best future.

"Have you ever jumped on the back of a croc before?" If his answer is "yes" we should all be a little concerned. But nevertheless, there he goes... trusting Bear like they all do. Thus having dinner. Over the roasting alligator skin, they throw around the pig skin (that of course Drew carries in his backpack). Now Bear gets to learn a little something.

Therapy time: There will be struggles and hardships but you'll find a way to work through it. For Drew, losing his mom from suicide was his hurdle. He hasn't talked about it in a long time and he doesn't look prepared to discuss it now. It has changed his relationship with his own children. Before nightfall they must use the tiger piss to perimeter their camp to protect them from snakes. Nighty night.

Day 2 equals a shallow looking river that isn't so shallow. No walking across. Instead Drew gets to throw across an anchor to cinch a line across the river so they can cross safely. Once out they climb up a rock cliff, discuss dangers and risks in life and in sports, and find their way to the top. Then they slide down a hole... so that doesn't make much sense. Before they rappel down they flare out all the nasty critters and protect their rope with the football. Who knew that would be an invaluable tool? At the bottom they find a canoe and head down the river out of the jungle... souvenir crocodile tooth necklace in hand.
Photo credit: NBC