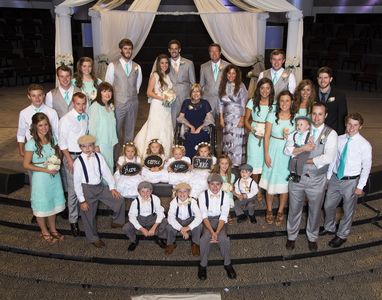 By Ashley Thompson
All currently schedule programs have been pulled yet there is still no mention to the long-term plan for this 19 Kids and Counting. Several people, many political, have come out publicly in support of Josh and the rest of the Duggar Family but there has been a call from the public to cancel the series. While rumors circulate that TLC may keep 19 Kids and Counting but terminate Josh Duggar, it remains to be seen if the show has a future at all. It is clear that the ratings draw are the girls... Jill and Jessa's weddings pulled in big ratings as well as baby Israels' birth. There may simply be no need for Josh Duggar if the show progresses.
As of now TLC has yet to make any formal statements including the fate of their popular show 19 Kids and Counting. While their response to the child molestation accusations surrounding their previous show Here Comes Honey Boo Boo was relatively quick, they eventually cancelled the series altogether. TMZ is reporting that Mama June from Here Comes Honey Boo Boo is threatening a one million dollar lawsuit if her show is not reinstated. Her lawyer believes he can score a $1,000,000 jury verdict if the matter is to be resolved in court.
The only public comments TLC has made are posted on their Facebook page:
"Effective immediately, TLC has pulled all episodes of 19 Kids and Counting currently from the air. We are deeply saddened and troubled by this heartbreaking situation, and our thoughts and prayers are with the family and victims at this difficult time."
Photo credit: TLC