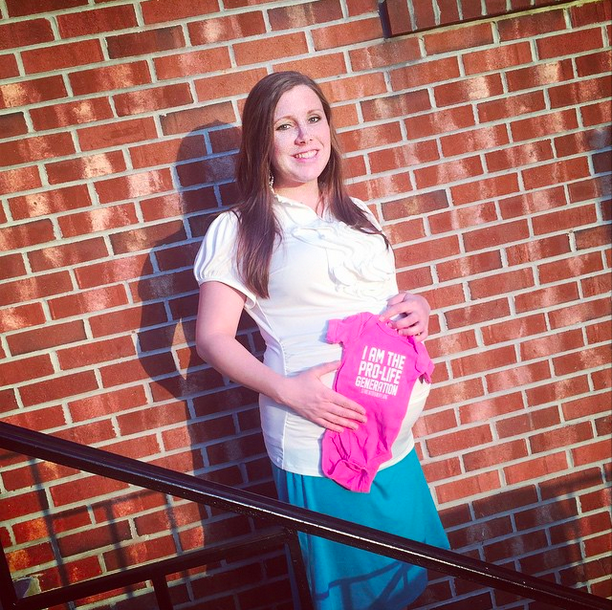 By Ashley Thompson
It's the longest gap between kids for eldest Duggar child, Josh, and his wife Anna. They already have a girl and two boys but tonight we get to find out what their 4th child will be.
Josh and Anna live in DC and are having an ultrasound, at home. Who knew that was a thing? Sierra, the wedding planner, wants to be involved because Anna was involved in the gender reveal party for her fourth child. The plan is that the ultrasound tech will write down the gender, put it in an envelope and seal it. That way no one knows what it is except for Sierra who will plan the party.
Before the party the family is headed to Arkansas to see the rest of the Duggars for a day, then a little mom & dad only babymoon to California. I'm sure Jim Bob and Michelle won't even realize there's three extra kids running around (7 kids under the age of 10). If they babysat 3 grandchildren for each of their kids they would be watching 57 kids at once. But can you really say you're kid-free when you win a giant teddy-bear you have to carry around? As Josh says, "You don't have to change it's diaper". Truth. In true Duggar fashion, fun and games isn't all their trip is about. They also visit a homeless shelter for pregnant women, Angel's Way. Luckily they take donations.... like big giant teddy bears.
What screams gender reveal more than 100 pink flamingos and 100 blue flamingos? Sierra has asked the Duggar fam to make signs, paint flamingos, cook some food, hang decorations, but they do NOT know the gender! Everything is pink and blue with no specifics.
In case you're wondering, they're having a ......... GIRL!!!!!
Photo credit: Anna Duggar's Instagram