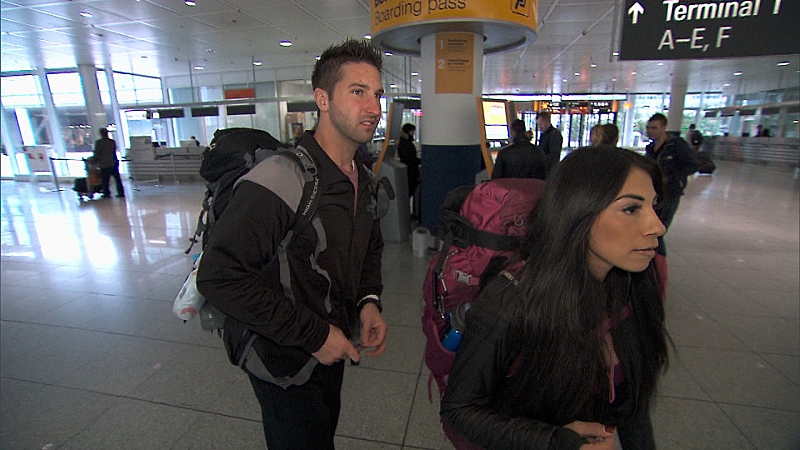 By Jules Palton
After finishing up their previous challenges, the couples and teams, flew over the Alps in the south of France, to the Hotel West Minister to find an outfit for their trip to Monaco, by way of a helicopter. After arriving in Monoco, their next assignment was to locate a shop in the city that contained chocolates and roses and then deliver them by foot to their lovers and/or teammates. The catch to this challenge was to find their significant others on a hidden yacht that they were completely unaware of. After locating each other, they then had to gamble on a roulette wheel that would determine which side of the detour they have to take.
The clue on red, was don't slack off, and to land on black, is a win by a nose, but both challenges would require them to pick up a ford fiesta at the valet.
The black challenge required the contestants to zip line 2000ft above the city and then walk back on the same line, back to the other side. Most of the couples who attempted this challenge, knocked this challenge out with no problem. The only obstacle to this challenge, would be if an individual had a fear of heights or not, but fortunately, the contestants all did well.
The red challenge or win by a nose, would require them to make a signature perfume or cologne that had to smell exactly like the signature fragrance using the fragrances and ingredients provided to them. Any couple that got this challenge, struggled a lot more than what any of them would have anticipated. With no map to guide them around the city, contestants Jelani and Jenny were in first place until the struggle to find their way to the pit stop, Page de Passable. They found themselves finishing but before first place winners Blair and Haley who won a South Africa trip from Travelocity.
Despite their arguing and disagreements in the previous episode, Jeff and Jackie figured out exactly how much they liked each other. However, their care for each other, was not enough to get them through these set of obstacles and challenges, and in contrast, they were eliminated from the competition.
Photo credit: CBS