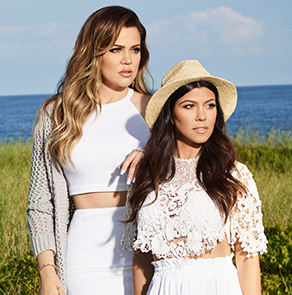 by Jessica Blackwell
Sometimes Kourtney Kardashian can be ice cold and then other times she just gets a bad rap for always doing what needs to be done. Tonight's episode of Hamptons was a perfect example of that. 
Ever since Scott's parents died, he's been avoiding settling their estates, specifically cleaning out their houses. Since its something that needs to be done, Kourtney has been on him to take care of it. Yea Scott is grieving and all, but certain things need to be done and burying your head under the sand isn't going to help. The more Kourt pressured Scott, the more he resisted and insisted that she wasn't being understanding to his situation and loss. From Kourt's perspective, she was just trying to be a good girlfriend but Scott barely appreciated anything she was doing. While she was weeding through his childhood memories, Scott was telling her she wasn't doing anything besides tossing out garbage. What she was actually doing was carefully sorting through pieces of Scott's entire life!  The least he could do is appreciate her. 
Meanwhile, Khloe was trying to renew the poor opinion the dash dolls had started to develop of her. Malika informed her that the dolls weren't exactly themselves around Khloe or Kourtney because they were the boss. Kourt certainly didn't care about that, but Khloe didn't want her employees to think she was the ice queen, so she went out on the town with them. True to Khloe form, she had a blast with the girls, but Kourtney didn't approve. She wanted the girls to have a professional opinion of them at all times, and didn't think that fraternizing with them was appropriate. I guess you could take this both ways - you could view Kourtney as THE ice queen who looks down on her employees and doesn't want to socialize with them OR you could see her as the professional business woman who knows that its best to keep a certain distance between you and those that work for you. Khloe agreed that things should always be kept tasteful, but she wanted the dolls to be motivated to work for them and she felt the only way that was going to happen was if they got to know them. 
Poor Kourt! As long as Scott is around never wanting to take responsibility, she will always look like the bad one. Stay tuned for next week's Hampton's finale! 
Kourtney and Khloé Take the Hamptons airs Sundays at 8/7c on E! 
(image courtesy of E!)