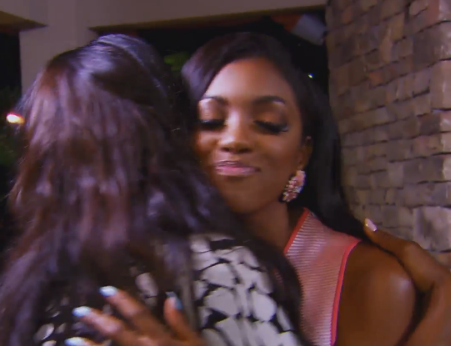 by Jessica Blackwell
I've said it before, and I'll say it again - you may as well call this show NeNe Leakes and the Real Housewives of Atlanta. Nene has seniority, so she floats in and out of the drama as she pleases. Sometimes she doesn't film with the ladies for episodes at a time but then manages to swoop in and cause drama at a moment's notice. 
Case in point, last night's episode. Nene invited Porsha, Kenya, and Cynthia out for drinks, but didn't disclose to the ladies who else was going to be there. Needless to say, they weren't too happy to see each other. Nene was hoping that everyone could hash out their issues with each other, but it was rather distracting with so many feuds going on at the table. 
I thought Nene and Cynthia had put their issues behind them, but apparently I was wrong. I had some doubts after Cynthia seemed really enthusiastic about their reconciliation but Nene was reserved, but I didn't think it would stop their friendship from moving forward. I was wrong again. Nene says that she needs time to get over everything and she isn't sure if things will ever get back to how they used to be. Ouch! One talk down, two to go. 
Next up, Cynthia and Porsha hashed out their differences. After their last talk where Porsha arrived very late ad refused to apologize, it seemed that a major feud was blowing but it appeared to have been extinguished at the dinner. Porsha told Cynthia she didn't like what she said in the media, and Cynthia expressed her frustration about Porsha being late and not apologizing. Atfer dealing with Cynthia, Porsha then had to face Kenya, her arch nemesis.
Porsha lashed out at Kenya at first while speaking to Cynthia calling her a rude b*tch for interrupting her so it didn't seem as if their conversation was going to go well. Thankfully, Kenya admitted her part in the reunion attack (in other words she admitted that she provoked Porsha) and Porsha softened towards her. Kenya actually got up to give Porsha a hug - and Porsha accepted it AFTER she confirmed that Kenya was apologizing! 
Now that everyone has supposedly "made up", let's see how everything goes. 
The Real Housewives of Atlanta airs Sundays at 8/7c on Bravo. 
(Image courtesy of Bravo)