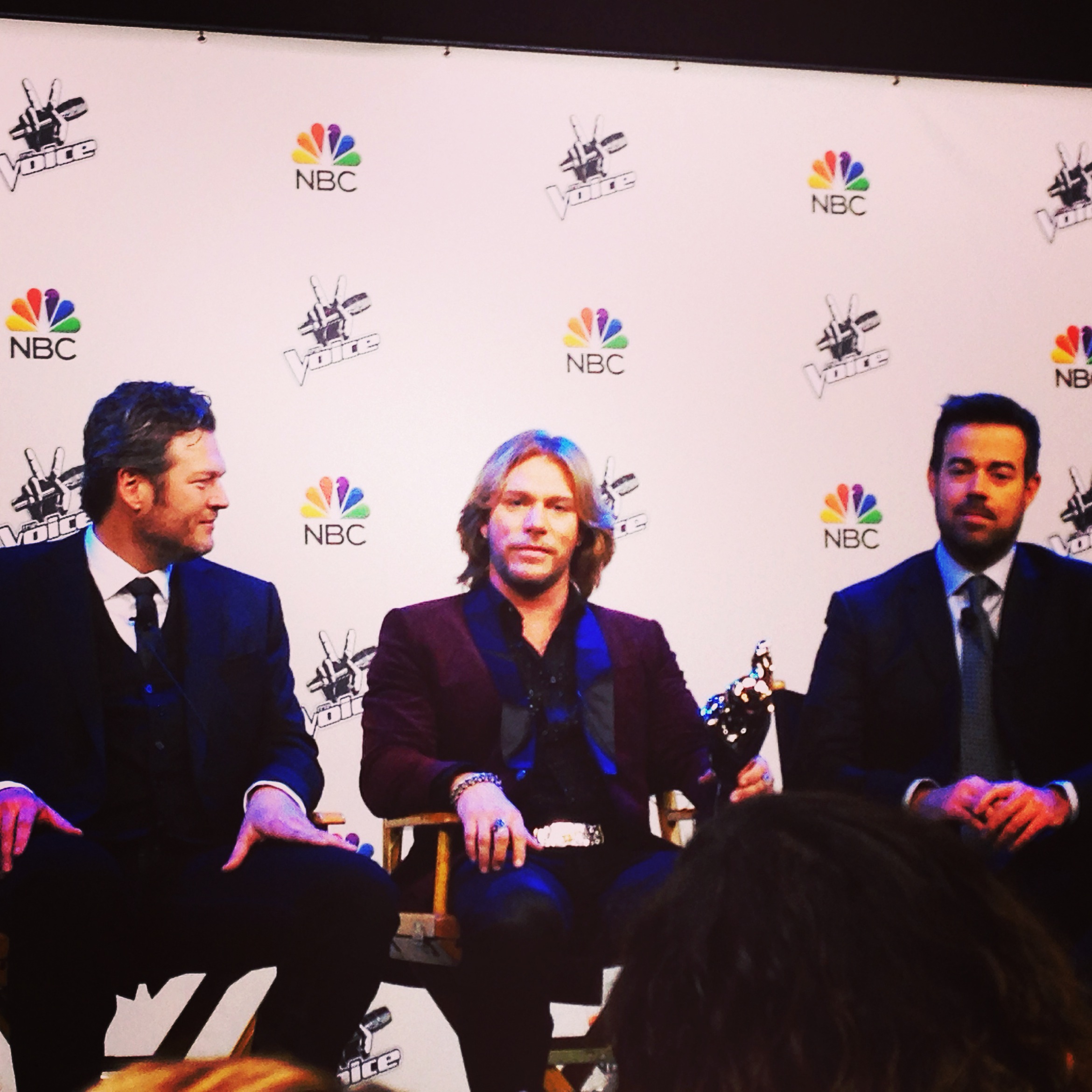 Craig Wayne Boyd was announced as the winner Of The Voice for 2014 giving Blake his 4th win.
They rushed Craig backstage for a very quick press conference before he had to jet off to New York to make the Today show. The mics had barely been placed on Coach Blake, Host Carson and the winner Craig when Blake was immediately throwing shade at Adam. It was mentioned that Blake had just a 25% chance of winning versus Adam's 75% (Adam had three of the four finalists on his team)…Blake laughed, beamed like a kid in a candy store and said, "Adam may never get over that fact that I won and he may have to quit the show before I stop crowing about it……." He laughed and shook his head almost in disbelief at this very fresh win for both him and his only team member left standing.
Craig Wayne was surprisingly quiet and commented that the glitter was still falling from the stage, he had the time to give his kid one quick kiss before being rushed into the press room, so he still hadn't taken it all yet. He looked shocked. Blake borrowed his trophy for a few minutes having his own moment of glory then playfully passed it back while Carson joked that they would get Blake a special trophy with the middle finger featured so he can show that to Adam. It seems there is a strong amount of rivalry between the two and Blake could not hide his delight at being the one sitting there next to his contestant. There was some discussion amongst the group how social media had certainly played on the two team "gunfight". And to be honest, I looked around the press room the moment they announced the winner and there was not one cheer from the crowd and many mouths agape in shock. 
There was much speculation if by Adam having three people in the final, if his fans #TeamAdam would actually be split in loyalty…how could they vote for just one of Adam's team? Were their votes split three ways? Did all of #TeamBlake simply vote for his one team member Craig Wayne Boyd? Did having just the one make it easy for the Blake fans to choose a winner? What was obvious was that this guy was truly the cat of nine lives, having been stolen twice and still not only making it to the finals but winning the title made him the ultimate underdog.
We asked if the victory it sweeter now or does he wish it happened years ago. Craig said it feels like validation for staying true….he shared a story that even Blake said he didn't know, about playing another honky tonk gig to almost no one in the room, he was outside packing his gear up and told his fellow band member he was thinking of quitting. He had lost his truck, he was losing his home and he had a family to look after. His friend begged him to reconsider and the very next day he received an email saying he had a chance to audition for The Voice. The rest, as they say, is history.
Someone asked Blake if Craig would open for him on his next tour but Blake quickly came back with a personal guarantee of Blake opening for Craig any time he is ready, which he also stated would be no time soon, adding that he was the most worthy contestant ever in the history of The Voice. "This man is a star," Blake stated.
Blake and Carson Daly went on to describe that Craig as the very person the voice was created for: Professional singers who are out there doing the hard yards, who wouldn't line up for 2 days to get a shot at "being famous" (quick jab at Idol) but talented singers who were literally out there working the small town gigs just to keep their families fed and clothed. He said he would love to tour with Craig, but said his next year was going to be insane.
Carson chimed in that at some point Craig was sure to have Blake live at his ranch joking that Blake literally adopts his former team mates. Apparently he has quite a few living at his ranch, recording new works, being monitored long after the show. Blake explained that the show is nothing if it doesn't actually nurture the talent it exposes. He is passionate about country music, at one point saying, there is nothing else in his life but country music, so to have an opportunity to make that happen for talented country singers, then he feels blessed beyond compare.
Blake also went on to make the point that because of how he continues to mentor his talent after the show is long gone, his winners are all working in the industry…..and he has done shows with all his winners….but he said we would have to wait at least a year to pin Craig Wayne Boyd down to have the time to do that.
Carson made a point to mention how great the competition was tonight…like never before…..his words, "like a good sporting event we have has to tip our cap to the three others. It was an incredible night of music, got right to America's heart.' He went on to also not that that it was important to acknowledge that is was not a landslide , that every finalist was an exceptional talent, that this year they had four people all launching their careers, all singing original songs.
The show had the top 3 iTunes spots the night before the finale. This is historic. It is also probably in response to the articles written in the LA Times earlier in the year saying that The Voice was all about the judges and not about the talent, with barely any record sales for any of the previous winners. It's obvious they went out to readdress that and they did it successfully. Craig Wayne Boyd has an original hit song with a video clip he actually produced himself. He has a tour already booked across the United States. Tonight he will be singing on Jimmy Fallon and Blake lamented it had taken him ten years to get on that show.
Someone then said that Ellen had called so he was booked to fly back to LA in a day to be on her show. Blake joked he had never even been on Ellen or if he had he'd been drunk at the time.
Carson said, "People are ready to invest in them, for the first time ever they have products…for the talent it is your single, not their cover song, it's a great launching pad with a great career ahead of them all." It's obvious Carson is passionate about the show because when asked what made this season so successful, killing it in the ratings, he spoke about universal themes that work……CWB singing about his story…..his son…..Carson related to that because he too had an absent father. He said it was important that people relate to the stories these people were sharing. That's why people were invested in the songs and the singers.
We asked what he was going to do to celebrate and he said he has no time. He is a hard worker and thrives on that. Even during the show he was researching songs for his next album in the hopes he would have the chance to do that. It hit him that that would now be possible as he turned to Blake and said, Now I guess that is going to happen." Blake chimed in and said again, This man is a star. I knew he was a star the moment he opened his mouth. I've never seen anon work so hard for this title and he deserves it he has a long career ahead of him and I'm proud to have been a small part of it."
They then whisked him away to the airport to get his very first private key flight to New York for what will be a very busy year of surreal moments for this man who is anything but an overnight success." Well done.
Catch some sneak peaks of the live backstage interview then if you want more, check out our backstage interviews with Craig Wayne Boyd as he inched closer to that title.