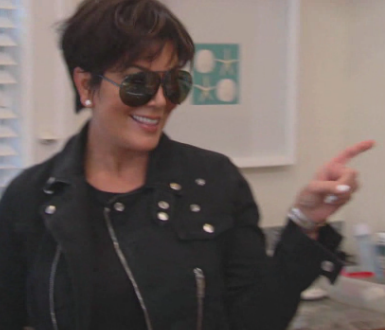 by Jessica Blackwell
The Hamptons house became overrun with Kardashians (and Jenners) as Kris, Kim, and everyone else invaded the once peaceful dwelling.
Whenever the three sisters get together, they like to figure out new ways to torture their mother or play practical jokes on her and this time was no exception. Since Kris is in the process of getting divorced from Bruce, they decided she needed a new young play thing to occupy her time. And when I say young, I mean REALLY young. They remembered the chef they initially had when they got to the Hamptons, a hot thirty something guy that has a way with food. Typical to their sneaky behavior, instead of suggesting it to Kris, they tried to find ways to create chemistry between the two. They invited him over to cook and then asked him to bring Kris a glass of wine in bed that she didn't even ask for! Then they took off in a speedboat leaving them alone in the house, hoping sparks would fly.
The girls forgot one thing. Kris is the mother of some of the best pranksters in the world, so she knows a thing or two about tricks. When the girls returned, they found underwear strewn around the house and moaning sounds coming from the upstairs bedroom. Luckily Kris was just pulling their leg and the odd pair was fully dressed in the bedroom. Thank God! That would have been gross - and embarrassing for Bruce.
I guess Kris wasn't done getting back at the girls, because she took things to the next level when she attempted to buy a piece of real estate from under Kim. Kim was looking to purchase another piece of property for because she was getting frustrated that her LA property was taking so long and she took her mother apartment hunting with her in NYC. I guess she and Kanye's mega mansion that is being built and the place she already owns in NY wasn't enough. Well she fell in love with this apartment, but Kris convinced her that she didn't need another place - as it turns out because she wanted it for herself!
After talking Kim out of the place reminding her how much she has on her plate with the LA property, Kris put in an offer! She justified her actions by saying that she simply fell in love with the place and Kim doesn't need any more property. When Kim found out, she was livid and outbid her mother. Unfortunately for both of them, someone put in a cash offer that trumped both of them! Lesson learned? Don't house shop with Kris Jenner.
Stay tuned to see what shenanigans the Kardashian ladies have planned next and to watch as Kourt gets concerned over Scott wanting to return to LA. 
Kourtney and Khloè Take the Hamptons airs Sundays at 9/8c on E! 
(image courtesy of E!)