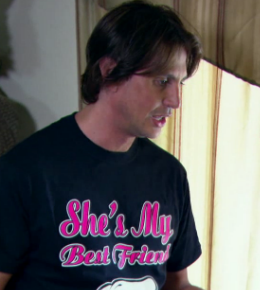 On last night's episode of Kourtney and Khloe Take the Hamptons, Scott came home from rehab and Jonathan Cheban, trusted friend to the queen who is always on call, was accused of betraying the royal family.
When Scott came home after 5 days in rehab, but only a day early, (umm that's not a rehab) Kourtney was worried that Scott didn't learn anything and that he was just going to go right back to his old ways. Well yea, I think it's safe to say nothing earth moving happened in 5 days, so that's a reasonable assumption. And then there was the fact that Scott was bragging about an appearance at an upcoming party in Atlantic City. A party where there will most likely be Scott came home, kissed his kids, and headed out on the boat that came in while he was away. But not before having an annoying conversation with Kim who apologized for allowing people to think he tried to kill himself. Yes, you heard me correctly, Kim told people that Scott tried to kill himself after his episode that involved pills and a hospital. Wait what? My thought exactly! Apparently Kim asked Sartiano what happened with Scott and her jumbled words about emergency room, pills, alcohol led people (what people?) to believe that Scott attempted to end his life. I'm still confused about this - Kim says she didn't mean to infer that he wanted to die but we still don't know who found out about it and blabbed! It's all so confusing.
Cut to Johnathan announcing that he wants to take Kim to the Jersey Shore Boardwalk for a little R&R. Upon hearing about the trip, Kim's sisters warn her that Jonathan might be the leak that has been plaguing the family for years and releasing intimate details of their lives to the press. They seem positive that it's based of the amount of information that Kim tells him and his connections to the media.
While Kim was with Jonathan, the story about Kourtney and the therapist was leaked. Because of the circumstance, Kim jumped on the blame Jonathan band wagon and confronted him about it. She had literally just told him about it, but Jonathan was adamant that it wasn't him. Kim checked his phone and her search yielded nothing. Turns out a member of the paparazzi recognized the therapist when she walked into the NYC hotel and that's how it got out. Kim apologized to him and all is well.
As for Scott and Kourtney, Scott made an attempt to go to an AA meeting so he seems t be trying...for now! Stay tuned!
Kourtney and Khloé Take the Hamptons airs Sundays at 9/8c on E!
(image courtesy of E!)