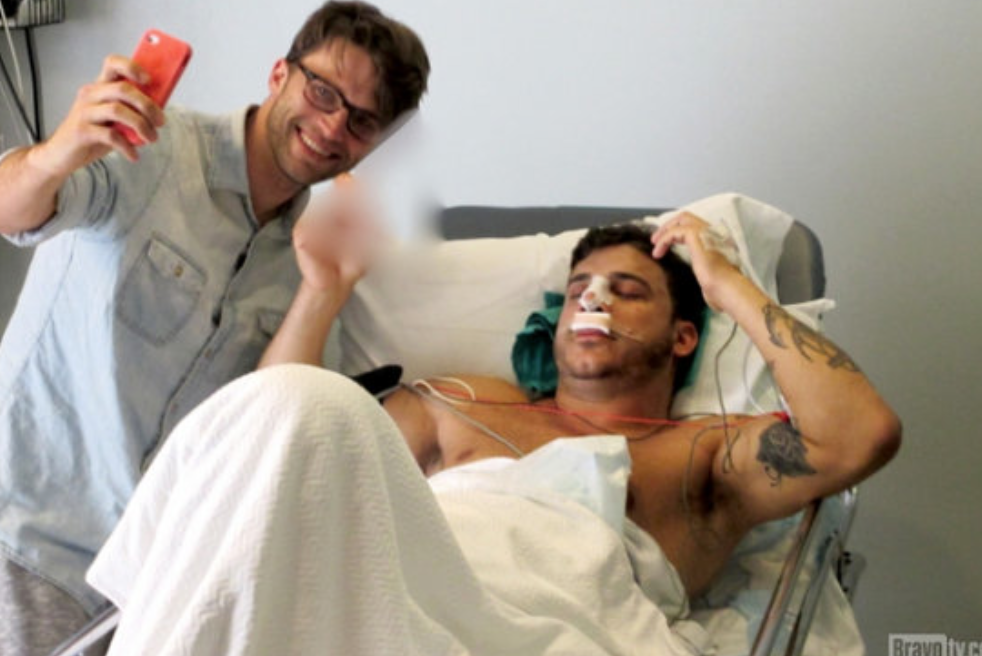 Jax is getting a new nose…..so the boys have a pre nose job party like a bucks party….but not…..so they all turn up in T shirt's with Jax's nose on them, drink beers then go get their eyebrows threaded. And typical of all boys, they can't handle the pain women go through to look "good" and they stop half way through a la 40 year old virgin chest waxing scene.
This episode seemed to be filled with flashbacks full of people crying, people screwing around with each, people crying, people screwing around with each other…….just like any normal episode. But I can't hate on it too much as it is hitting the ratings, so somebody is watching because they want to, not just cause they have to lol.
So, Tom, who had begged Lisa V for the job and who has not had a "real" job in 8 years, instead making his living from modeling, has a panic attack twenty minutes into his first shift at the new and very busy Pump and walks out leaving Lisa V V pissed off.. and who then comes up with a series of quips through this show that make me love her more and more each week.….LV, "I'm gonna wring that little f&ckers neck" hahahahaha Gotta love a tough old chook who tells it like it is.
Katie goes to see if he is okay…..he moans that he only had one training session and a crowd of people rushed in…..then goes on to admit he hasn't had  panic attack since he ate half a pan of brownies in college. Wait. What? Oh, BROOOOWWWWWNNNIES!!!! These two are ENGAGED, people! They talk of having babies! Breeding. Bringing more people into the world like this! Seriously you need a license to drive and shoot and even own certain animals but anyone can have babies. God help our country.
Katie explains to him that it's not that hard to be a bar man with, "Even jocks can do it." She starts thinking it displays his lack of commitment (no, really? Let's just call and ask Captain Obvious) and begins worrying about her choice of life partner. 
I do hold out hope that this show is as scripted as The Hills was so then I really don't have to worry about the lives of these obviously lost souls/the youth of today. I feel like I'm aging as I'm writing this,…..yes, I have cobwebs growing out of places that haven't seen the light of day for years…I am officially too old for this show…and again, like some kind of hypnosis it drags me in. Of course Lisa is the star and I'd probably watch a show of her watching paint dry or waiting for pots to boil cause if it wasn't for the catty, bitchy, hard nosed, foul mouthed quips I'd be done.
The we move on to more mature topics of the 36 year old Jax talking about his tradition with the lads of drawing penises on their faces when they sleep, saying he hopes he doesn't wake up with said penises on said newly reconstructed face.…This is also a man who is constantly surprised that his girlfriend's leave him for men who act like grown ups and wonder if he will ever do the same.
On the upside he does seem to have some kid of Shallow Hal curse because everyone who leaves him always finds someone better and ends up getting married, cue Scheanna Marie, who we just don't see enough of this season. Upon hearing of Jax's nose surgery she laughs out loud and continues to do so for a long long time. You can see this girl has actually matured since being the "other woman" in Brandi Glanville's life  and sadly she has almost outgrown the childishness of this show. Maybe this is like 90210 high where they graduated and went to live at Melrose Place. Maybe she will move on up to Housewives of Beverly Hills. Her and Brandi in the same room…….at least neither wear a weave…..cause things could get messy.
Jax wakes up with no pensies on his face but a huge rubber one in his hospital gown. Yes. I just wrote that. Now I'm going to go and drink some vodka so I have enough fortitude to finish writing this article. Hahahaha.
Lisa and Peter the manager of Sur,  turn up and visit Jax……whose apartment is filled with stolen property from Sur but for some reason they didn't make it a story line. Wish they had. Tom is there but Lisa ignores him, making mention that she can't have a serious conversation with a man who has "eyebrows like Greta Garbot" and on leaving, tells Tom that while he is at the pharmacy getting Jax his pain meds, to pick himself up a set of balls." Boom! And that is why I watched for so long without fashioning a noose for myself. It makes it all worthwhile.
The rest of the show is people drinking, people talking about who slept with who, people drinking, Stassi saying these people are weird, Scheanna saying Stassi needs to go back to her real job of being a cult leader, more people drinking and whatever….. I can't go on. There is no more vodka and I don't own any rope.
Here are the facts. This is rating its perfect little bottom of. People are watching it. Anything Lisa Vanderpump touches, be it TV or restaurants, is a roaring success. Nothing else matters.
And now I am going to try to find my soul….I left it somewhere at the beginning of this article…..hahaha only joking…or am I? 
Watch it. Or don't. The world will continue to turn. 
Vanderpump Rules is on Bravo Monday nights.