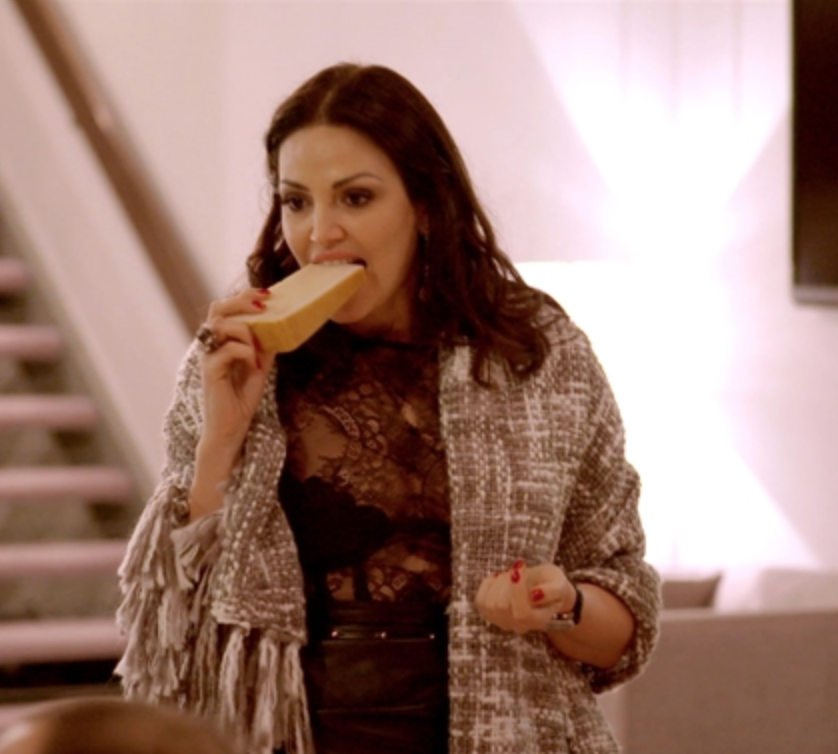 BravoTV have yet another Housewife-esque format where we follow the lives of six very different people all designed to scratch and claw their way to the top. This time it's "Euros" of Hollywood - a bunch of European hopefuls wanting to break into, yes, no surprise - Hollywood. 
The only reason I watched it was because it followed Vanderpump Rules and I couldn't be bother changing channels (or I couldn't find the remote).
Now I'm three episodes in and like any of these shows, find it has that can't turn away train wreck TV element to it.
The standout stars are the two female singers - Fawni and Bleona, who coincidentally can't stand each other (ah yes another episode of women hating women and competing to be alpha females). But what's funny is Bleona, who turns up to Fawni's party and stands around eating whole blocks of Parmesan cheese then has the audacity to call Fawni crazy and goes so far as to hire a bodyguard to keep Fawni away from her at the next party. 
Who are these people? Well according to Bravo's website:
Bleona is  the "Madonna of Albania" in her native country, Bleona has been a superstar in Eastern Europe for over a decade with over eight albums and counting. She began her career at five-years-old when she was cast in "The House of Pionieri," an Albanian television show similar to "The Mickey Mouse Club." She is one of Albania's highest profile artists, and has sold out multi-city tours and performed for presidents, royals, and billionaires. Relatively unknown in America, this rebellious and demanding diva is ready to make a name for herself with her supreme star power and infectious dance tracks. However, Bleona's never satisfied with anything that doesn't meet her heightened sense of standards and will stop at nothing until she conquers the US market.
Fawni  is A painter turned pop star, Fawni was born into a family of artists and is well-known in the Viennese art scene. Her latest dance single "It's All About You" was a #1 hit in Japan and climbed the charts across Asia. However, after a difficult divorce from her music manager-husband, Fawni is trying to put her personal and professional life back together. With a positive attitude and help from her Euro friends, this bubbly blond is hoping to finally follow her dreams of being famous in America.
There's also some woman who might be a stylist, a guy with a clothing company and another guy with a jewelry company but I don;t care about any of them. I'm obsessed with Bleona and Fawni so much so that when my friend and I spotted Bleona's gold porsche in Beverly Hills the other day we stalked all of the nearby restaurants, hair and nail salons in the hopes of meeting her. Too funny.
This show is strangely addictive and has funny little moments where they experience American "culture" including this week's lesson of learning to play Beer Pong and the required red drinking cup made famous by this year's Miss America, who played the cups and took out the crown.
Euros of Hollywood is on Bravo Monday nights and follows Vanderpump rules.