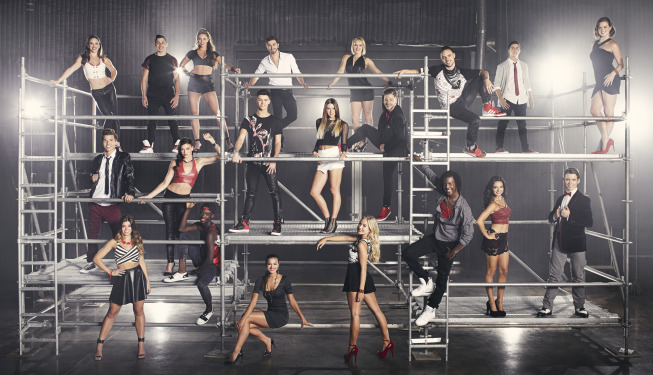 By Ashley Thompson
Apparently what was previously known as "Vegas Week" is now known as "Callbacks Week". We meet Nigel and Mary, along with Adam Shankman, Twitch, Tara Lipinski and prima ballerina Irena Dvorovenko as judges in Pasadena. There are 157 dancers at callbacks starting with their solos (no feedback after they dance) followed by choreography rounds and eliminations after each.
The only solos we see are ballroom dancer Tanisha Belnap, 20, UT and hip hop dancer Steven Kador, 27 from Louisiana who's girlfriend is giving birth while he is dancing in California. The judges immediately cut 36 people, so only 121 dancers remain. During the following choreography rounds the dancers are either kept, cut, or able to dance for their life.
Choreography round: this round includes Jasmine from Season 10 and hip hop choreographer Christopher. The dancers are split into couples and given one hour to learn the routine. They have through the night to rehearse before performing for the judges the following morning. Marie Poppins makes it through to the next round but Nigel isn't pleased, and she wasn't good so I don't blame his disappointment. Shocker of this round? Apparently ballroom dancers can do it all! Expectant father Steven Kador has been up all night practicing with his partner ballroom dancer (model-face Malene is what we'll call this pretty girl) Malene and waiting for the arrival of his child. They technically got the moves down but there was no real effort, somehow they make it through to the next round. Remember Caleb Brauner? He auditioned twice, once with his dad brought on stage (dad died from congenital heart failure since the last audition). He does well but to my surprise gets sent home. Jessica Richness, 18 from CA gets a chance to dance for her life, considered sexy contemporary(?), and it seals her fate for the next round.
Choreography round: Sonya Tayeh is the choreographer for the Jazz round with Season 9 George and Season 10 Amy as her dancers. With another hour to learn the steps, new father Steven Kador is cut (I'm sure it's bittersweet because he's probably anxious to meet his new son) and Johnny Whacks makes it through. Hip hop dancer JaJa (sounds like Ya Ya) does extremely poorly but gets a chance to dance for her life... and gets to the next round through unanimous decision. Twitch REALLY digs this chick.There are now only 65 dancers moving on.
Choreography round: Ballroom dancers Dimitri and Anya are in charge of this one and although contemporary is considered the 'dreaded round', ballroom seems the toughest to me. After training they have through the night to perfect it before performing for the judges. Emilio Dosal made the Top 20 in Season 10, but then was injured and had to withdraw from the competition. Now he is partnered with JaJa and they make it through, along with two tappers paired together who can surprisingly convince the judges.
Choreography round:** Day 3 - Travis Wall comes in for the contemporary round. Bridget Whitman, 20, AZ gets a chance to dance** for her life and makes it through by the skin of her teeth. Now 29 guys and 21 girls remain.
Group Routines: The dancers are placed into groups of five and all night to choreograph a routine from a randomly drawn CD. One question... where do the groups get their matching costumes? They can't possibly be packed in their luggage from home. I digress... The first group is taken over by one of the girls and it is obvious she has made it her show. The judges are displeased and Nigel sends them off stage telling them to decide who will go home without the judges help. However, the group refuses to send anyone home and through sheer respect Nigel sends them all through to the next round. Best quotes from this round: "This girl is doing hip hop in pointe shoes!" and "You can't fake technique" (so true). When everything is done 44 dancers move on to final solos and on to learn their fate in the Top 20.
Top 20:

GUYS
1. Ricky
2. Teddy
3. Stanley
4. Emilio
5. Zack
6. Casey
7. Nick
8. Serge
9. Marcquet
10. Rudy Abreu

GIRLS
1. Jessica
2. Jacque
3. Carly
4. Bridget
5. Valerie
6. Jourdan
7. Emily
8. Tinisha
9. Malene
10. Brooklyn
Photo courtesy of FOX