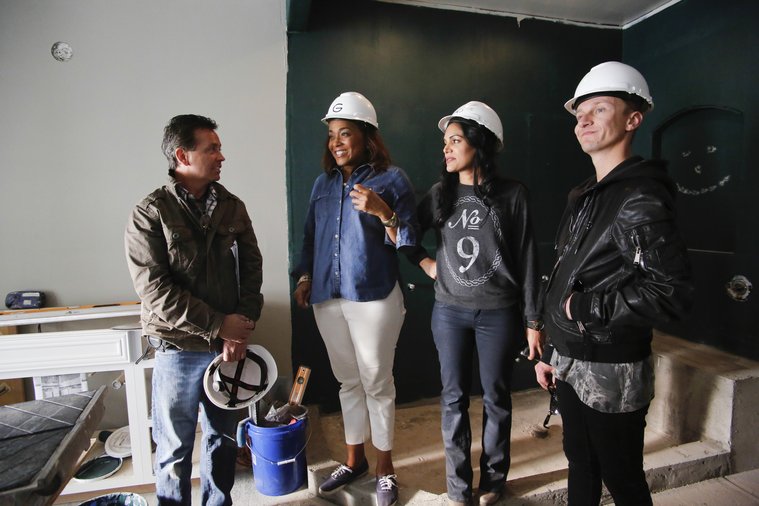 By Ashley Thompson
This week the remaining four designers are working together, with Jay as their site manager, to renovate a New York Victorian home into a fully functional living space in just five days. Each designer will be judged individually, no more teams.
Projects this week are as follows:

Lukas - guest bedroom (where he's planning to physically expand and add french doors), the kitchen (where he is adding all new cabinets and island), as well as the parlor (where he is planning a vent-free fireplace).

Elaine - family room (where she plans a red wall no one is keen on, demolish the existing bar, and add seating), and the shared girls bedroom (where she is putting in an activity niche and a chalkboard wall).

Nina - dining room (where she plans on pushing a wall back and using a glass table), and the nursery (where she plans to go princess-y without pink).

Jay - master bed and bathroom where he wants to install an inset wall with drapes and extend the shower in the bathroom, and he also volunteers for landscaping duty.
My personal question for the designers is, why the sharp edges? The dining table, the living area tables and furniture are all dangerous areas. You are designing a functional home for a family of five, with three children. Why isn't a little... safer?
With one day to the reveal all of the designers agree that Elaines' red room is not in contingency with the feel of the rest of the house. Will she be the one to go home? That will be semi-determined by the neighborhood counsel, which this week consists of eliminated designers from previous weeks. No pressure, guys.
The designer going home this week is SPOILER ALERT
Nina. Wait!!!! What???? No one liked Elaine's designs yet Nina is the one leaving? I am so confused. Maybe the judges have faith in Elaine and we'll see her redeem herself next week. Not so fast... TWO PEOPLE ARE GOING HOME TONIGHT! Elaine is the second person to be eliminated. Whoa, that was intense.
With only two contestants remaining, you can catch the two-hour season finale next week to see who America's Dream Builder will be.
Photo courtesy of Vivian Zink/NBC