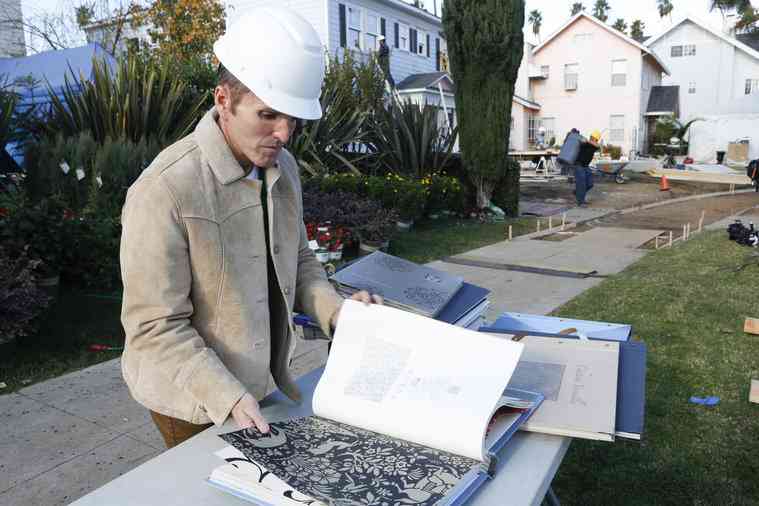 By Ashley Thompson
Nate decides to switch up the teams for this weeks colonial duplex in Los Angeles, meaning both teams are under one roof. Lukas, Elaine and Darren (site manager) are on Team Red. Their objectives are to build a foyer, build a fantasy bathroom, and create an outdoor oasis on the patio. On Team Blue we have Nina, Dann and Jay (site manager) whose objectives are to open up the staircase, make downstairs ADA (Americans with Disabilities Act) accessible. The only assigned challenge is to build an incredible master bathroom on both sides of the duplex.

What we see for the first time is how the furniture is picked by the designers. There is a marketplace of sorts where each team gets to "shop" for the items they wish to put in their home. Each team gets only 25 tags, if both teams want an item a coin is flipped. How judicial. Now we get to watch how they REALLY "shop"... Elaine walking behind Dann and tagging all of the same furniture drives him mad and to the breaking point. Don't kill her, Dann! She's good for ratings.

Here's the designer set up with Team Red on the right side of the duplex:
Elaine and Lukas - dining room
Lukas - kitchen, master bath, and bedroom
Darren - bathroom and patio bedroom
Elaine - master bedroom

And Team Blue on the left side of the duplex:
Dann - bedroom
Jay - exterior, ADA accessibility bathroom downstairs, and bedroom
Nina and Dann - dining room, upstairs fantasy bathroom, and bedroom

The neighborhood counsel picks Red as the winning team, which makes Darren and his patio (incidentally the first time in the competition a room hasn't been completed) a very lucky man. Who isn't so lucky this week?

SPOILER ALERT Dann. Your self-described expertise wasn't so expert.

You can learn how to perfect the decor in your home at NBC.com/ADB.
Photo courtesy of Vivian Zink/NBC