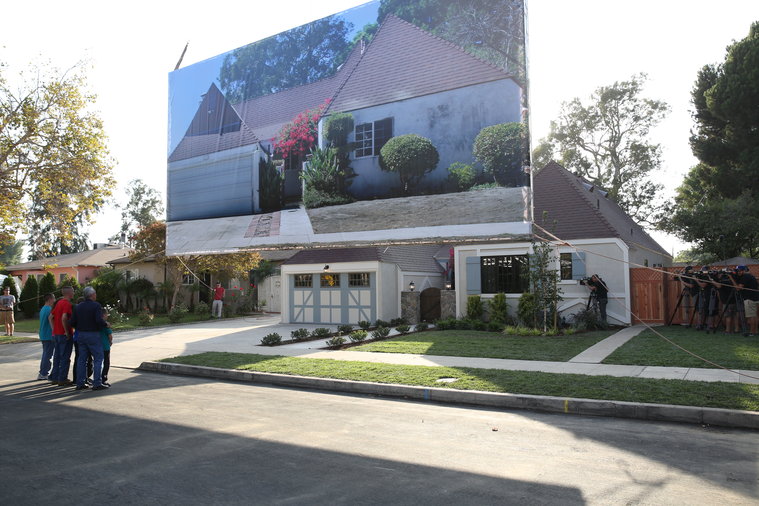 By Ashley Thompson
Extreme Makeover, minus the gut-wrenching back-stories, meets The Apprentice... but with flare. American Dream Builders is a new makeover competition show that takes 12 distinguished designers/builders and splits them into two teams for a new challenge each week. By the end of the season there will be one man standing with a $250,000 cash prize and the title of America's Dream Builder.

Meet the contestants: Darren, Elaine, Nina, Jay, Christina, Andrew, Vanessa, Dann, Nancy, Tarrick, Lukas, and Erinn. The judges, who are more like guides than actual judges, are Eddie George (Heisman Trophy winner turned renowned landscape architect), Monica Pederson (interior design expert), and Nate Berkus (host and designer). Like the three judges weren't intimidating enough...there's a twist. A neighborhood counsel made up of architects, real estate agents, etc. will in actual fact be the ones to decide who is safe to continue to the next week.

This weeks challenge is to renovate two Tudor style homes with different needs, inside and out, in less than one week. Team Red, led by appointed site manager Tarrick, has the job of creating more space for the family who currently shares only one bathroom. Team Blue, led by site manager Jay, are in charge of creating more space for a multi-generational family under one roof.

First impressions during the judges' surprise visits encourage us to believe that this feat is impossible. But, through all the egos, sass, gall, and aversions to authority both teams create the most beautiful homes and outdoor living areas. Even though both homes are magazine worthy, it is inevitable that someone will get eliminated, but not before throwing each other under the bus.
Lesson to be learned after this premier episode? BATHROOMS ARE IMPORTANT! And so is effective time management.
***SPOILER ALERT!!!***
Bye, bye, Tarrick. 
Photo courtesy of NBC