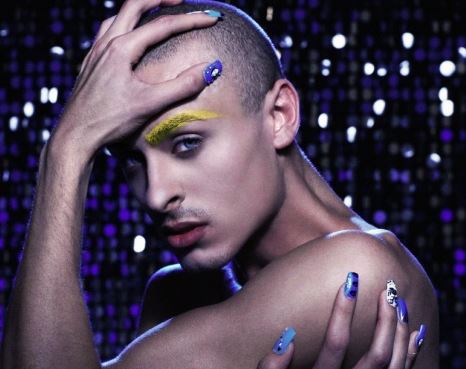 by Gina Scarpa
Last month, Jourdan Miller was named the winner of America's Next Top Model Cycle 20 in beautiful Bali. She was the last woman standing in the final three, up against Marvin Cortes and Cory Hindorff. Cory was surprisingly eliminated right in the final hours of the competition and we took a look back on the season and chatted with him about being one of the first male models to compete on the long running series.
Q. Gina, RealityWanted: What was your reaction when you found out you could audition this season?
A. Cory: I'm a huge, huge fan of the show. I'm sort of a nerd when it comes to Top Model so I've seen every season. Even before they were auditioning men, I thought about throwing on a wig and doing it that way! You better believe I was jumping off the walls when I heard they were taking men.
Q. Gina, RealityWanted: Were you worried about being judged against female models? It seemed, initially, like it would be hard to compare.
A. Cory: Yeah, I was wondering the same thing at first. I think it depends on what type of model you are and then it comes down to your confidence and how well you're selling the product. You can judge any model based on that.
Q. Gina, RealityWanted: Did you look at anyone as your biggest competition?
A. Cory: Definitely Jourdan from the jump. She intimidated everyone from the beginning. She looks like a model that you already see in campaigns and magazines.
Q. Gina, RealityWanted: Did having men in the competition up the drama factor?
A. Cory: Oh my god! Definitely being a superfan of the show, I didn't expect the drama to be this elevated. There definitely hasn't been so much focus on the drama in past seasons. This has made things entertaining for sure! If ratings keep going up, they'll keep going this route. Drama naturally took place because men were involved and sexual tension was involved.
Q. Gina, RealityWanted: What was it like to shoot campaigns and walk runways in Bali?
A. Cory: Bali was beautiful, honestly! That alone was the experience of a lifetime. It made it something I would never trade for anything in the world. I was humbled and I was spoiled.
Q. Gina, RealityWanted: It was sad to see you get eliminated right before the verye end. How did you handle it?
A. Cory: I was sad too, to be honest with you. I look back to when Tyra first said the prize package. When she said Guess, I was like, "There's no way I'm winning this!" There was no model that looked like I did. I have to tell you, when I got into the top three and got that verification that what I was doing was good, I thought I could win. I don't wanna toot my own horn but I feel like I have a lot of skills in comparison to the other two bu that doesn't mean that Jourdan didn't deserve it any less.
Q. Gina, RealityWanted: What was the fan reaction like?
A. Cory: People were angry! My fans were angry! I'd like to describe my fans as loving, self-expressing, beautiful people. Their rage was temporary though!
(Image courtesy of The CW)

Follow Gina @ginascarpa