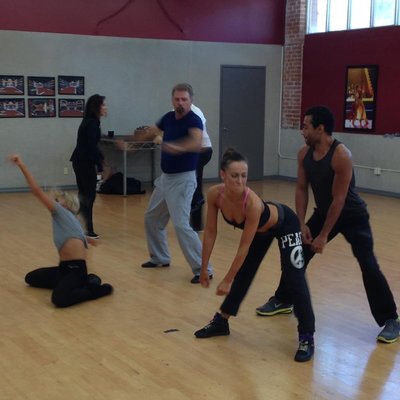 by Kylene Hamulak
Last week's Dancing With the Stars ended with the surprising elimination of the couple who had scored the first TEN of the season less than two hours before. Tonight's show will feature a surprise too, as the couples are challenged to improve in an improv dance.
Here's this week's recap:
Bill Engvall and Emma (Tango) - Tango to Cheeseburger in Paradise? This is blue collar ballroom for sure! The best part of this rehearsal is hearing Emma mispronounce "Jimmy Buffet". The best part of of the dance? Seeing an unconventional Tango performed by an unconventional dancer! Len calls it sharp and tangy with lots of content - "overall well done". It's hard to tell if it was an intentional burger pun or not. Bruno notes a few timing issues that lost the smoothness of the dance, but he liked the entertainment. Carrie Ann calls it a "strangely odd combination of humor and passion," but she was thoroughly entertained.
SCORES: 8 (Carrie Ann) - 8 (Len) - 7 (Bruno) = 23
Elizabeth Berkley and Val (Cha Cha) - Last week, Elizabeth brought us back to the glory days of Jessie Spano. This week, she's taking us to the glory days of Showgirls, which is a place no one wants to go. Val wants this routine to be empowering for her, and it should be. It wont make anyone forget Showgirls, but it's an impressive effort. Bruno calls her a brazen hussy, which must mean something different in the UK. He calls the dance brilliant. Carrie Ann loved it and says she was "a white panther," so I'm really wondering what dictionary these judges are using. Len calls her consistent, saying "The more I see, the more I like."
SCORES: 10 (C) - 10 (L) - 10 (B) = 30
Leah Remini and Tony (Quick Step) - It's nice when your friends drop by rehearsal, right? What if your BFF was Jenny from the Block? Yeah, J.Lo stops by to remind Leah to have fun, but does it work in the ballroom? Her effort is there, and it's nice to see her continue to get better with her footwork. Carrie Ann calls it the biggest turnaround she's ever seen, as last week's criticism helped transform her into an elegant, confident dancer. Len criticizes the technique a little bit before calling it "shoots and ladders - last week you shot down, this week - WAAAY up!" Bruno compares her to Ginger Rogers, describing her as sweet and light and moving well.
SCORES: 9 (C) - 9 (L) - 9 (B) = 27
Brant Daugherty and Peta (Tango) - Brant is starting to get way too emotional for me to take him seriously. You can't cry EVERY week, Brant. He's getting nervous that he's not famous enough to win, but what he lacks in fame, he certainly makes up for in pretty. Their tango is fierce and tight and passionate. Len gives it two thumbs up, calling it "sharp, crisp and tasty." The dance, that is. Not just Brant.  Bruno loved the aggression he showed, and he calls it their best performance despite a couple of stumbles. Carrie Ann says it was incredible technique, but she agrees that the energy took him off the music a little bit. She calls him "a beautiful, perfect, dancing Ken doll." She's right about that.
SCORES: 9 (C) - 10 (L) - 9 (B) = 28
Amber Riley and Derek (Samba) - There's a little tension in rehearsals between Derek and Amber this week, as the Samba presents some new moves Amber isn't picking up as quickly as she has in other dances. The trouble in rehearsal doesn't translate to the ballroom, however - the routine is fast and looks great, and whatever frustrations the couple had are nowhere to be found. The audience loves it, and so does Bruno. He says he was looking for her to do something wrong, but she did EVERYTHING right. Carrie Ann is positively giddy and calls the dance "a super ambitious Samba." Len accepts the boos before his critique even begins, then follows it by speaking samba. He rattles off terms that are another language to me, but Derek's expression tells me it's not praise. However, Len calls Amber a fantastic dancer, and he seems to like the routine, but he says it was "a tad repetitive."
SCORES: 10 (C) - 8 (L) - 10 (B) = 28
Jack Osborne and Cheryl (Paso Doble) - The challenge for Jack this week is to become an arrogant matador. Lucky for him, he's got Val to give him lessons, not only in person, but via creepy talking poster as well. He takes the advice and stays in character through out the routine, which is a very traditional DWTS Paso. Carrie Ann felt the intensity but thinks the fierceness threw off his movements and timing a bit. Len said it was full of intent and purpose. Bruno says Jack was "chasing the music" tonight, but overall it was a good effort.
SCORES: 8 (C) - 9 (L) - 8 (B) = 24
Snookie and Sasha (Fox Trot) - Sasha's challenge to Snookie: Be elegant for this dance. Snookie's version of "classy" is the Real Housewives. Good luck, Sasha.  The dance is set in a park with light posts dotting the dance floor. It's a cute routine, although I could've done without so many props  distracting me from the flow of the dance. Len begins by calling it "Happy hour! What's not to like!" Bruno says she moved well and with grace, but warns her to keep her extension all the way through. Carrie Ann thinks she's improved the most of everyone. Sidenote: Is it just me, or does Snookie always perform late in the show?
SCORES: 9 (C) - 9 (L) - 9 (B) = 27
Corbin Bleu and Karina (Viennesse Waltz) - Corbin is super excited for his Game of Thrones themed routine this week, and if I knew anything about Game of Thrones, I probably would be too. The performance is theatrical and dramatic and beautiful but Bruno isn't so impressed - he was expecting cleaner lines. Carrie Ann, however, thinks that the passion sold the story. Len loved the theme, but he criticizes them for not dancing enough in the ballroom hold.
SCORES: 8 (C) - 7 (L) - 8 (B) = 23
Switch Up Challenge:
Four couples at a time will be challenged to improv routines live, with no chance to prepare, as the music will change with no notice.  The last couple standing will get 4 points added to their score...the first to leave will add only 1 point, second will get 2 points, and third, of course, will get 3 pts.
Group 1: Jack and Cheryl, Corbin and Karina, Bill and Emma, Snookie and Sasha
This challenge is kind of weird mess to watch - it's hard to figure out who to focus on. Some of the couples, like Snookie and Sasha, are in sync while others depend on...well, other tricks. Like Bill, who rips open his shirt. The winners are:
Bill and Emma - 1 point
Jack and Cheryl - 2 points
Snookie and Sasha - 3 points
Corbin and Karina - 4 points (which is good for them, after low scores in first round)
Group 2: Amber and Derek, Elizabeth and Val, Brant and Peta, Leah and Tony
Because it's completely different music, Group 2 comes in with no advantage of having seen Group 1 perform. These pairs as a group seem to be doing more structured dances than freestyle, but there's still so much going on, I'm not sure what to watch. The winners are:
Leah and Tony - 1 point
Elizabeth and Val - 2 points
Brant and Peta - 3 points
Amber and Derek - 4 points
I'm not sure I liked the Switch Up Challenge - I'd rather see team dances than the freestyle mash ups.
Elimination Recap:
Unlike last week, Elizabeth and Val are the first to learn that they're safe for this week, followed quickly by Amber and Derek and Brant and Peta. Leah and Tony are thrilled to learn that they're returning too, along with Corbin and Karina. Nicole and Sasha are safe too, leaving Jack and Cheryl and Bill and Emma as the final two couples. There's not much suspense when Jack and Cheryl are announced as safe, leaving only Bill and Emma to be eliminated.
Except....they're not. Yep, you heard it. Bill and Emma are NOT eliminated. Why? Because a technical glitch in last week's broadcast may have caused viewer votes to be miscast. All votes from last week have been thrown out, and ALL of this week's couples are safe.
Does that mean a double elimination next week? They don't say, but my guess is that if you care about any of these Stars leaving, you better pick up a phone!
What did you think of tonight's show? Which of the judges did YOU agree with? Let us know in the comments below!
Catch Dancing With the Stars every Monday at 8/7c on ABC!
(Image Courtesy of ABC)
Follow Kylene on Twitter at @keepingupwithky!