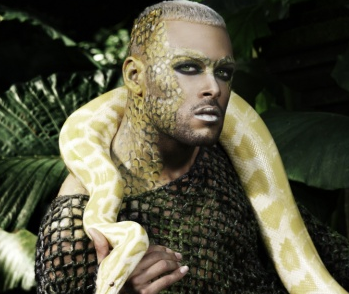 by Thea Napolitano
Anxiety set in on this episode of America's Next Top Model. All eight contestants made it to beautiful Bali and with the models being out of their normal element, it caused some to panic and perform poorly. The challenge took it to a whole new level when the runway became more of a survival challenge! Rather then walking on your typical above water runway, it was the complete opposite. The models had to show their fierce walk underwater while wearing a huge helmet to help them breathe.
Due to previous health problems, Nina wasn't able to fully take on the challenge as much as she would have liked. She had part of her lung removed years back and being a high health risk, she was told to just snorkel. Don also wasn't able to fully complete the challenge successfully because of his high anxiety. He had made it to the bottom of the water runway but once he got there, his mental capacity couldn't take it. He right away got out of the situation and joined Nina in the alternative challenge...snorkeling. Renee didn't hesitate when it came to showing off her walk and it showed. She became the challenge winner winning $3,000 in swimwear!

Bali brings out the beauty in nature and the models got the privilege to interact with some animals in their photo such as an orangutan, leopard and anaconda. It wouldn't' feel like being in Bali without an exotic creature in the photo! Many models failed to impress the judges this week, which lead the idea that it was anybody's game.
It came down to two guys in the elimination panel, Marvin and Don. Neither photo impressed the judges much and with Don not completing the challenge, he was sent home. It wasn't necessarily his incomplete challenge that got him eliminated; it was his photo that didn't shine through as high fashion. Can't wait to see what else Bali brings to the table!

America's Next Top Model airs Fridays at 9/8c on The CW.
(Image courtesy of The CW)
Follow Thea @TNapoli_Tano