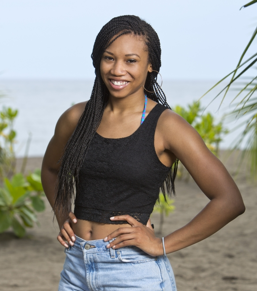 by Gina Scarpa
Marissa Peterson came into Survivor: Blood Vs. Water excited to play with her uncle Gervase, who was on the very first season in Borneo. However, the pair were prepared for anything and that included being on separate tribes. What was she wasn't prepared for was being voted out first but she held her own through two Redemption Island competition. This week, she came up short against married couple Candice and John and made an emotional exit from the game. We talked to Marissa today about who she really blames for her blindside, how she liked living with Candice, and what she got out of her nine days in the game of Survivor.
Q. Gina, RealityWanted: Were you excited to get to play the game of Survivor with your uncle?
A. Marissa: Oh yeah, I was most definitely excited! I never thought I would be able to do Survivor. Even going through the casting process, Lynne Spillman asked why I didn't try out before. I said, "I don't know, I always thought it was Gervase's thing."
Q. Gina, RealityWanted: What was your reaction to being on opposite tribes this season? You must not have thought you were going to be the first one voted out.
A. Marissa: Right? I mean, Gervase and I were prepared for anything. We thought they might switch the tribes up days into it but we didn't think right off the bat. Once Jeff revealed that, people were crying and we were both like, "Okay peace, see you at our first challenge!" I was not anticipating being voted out first.
Q. Gina, RealityWanted: Your tribe blamed Gervase for your elimination from the game so were you more upset with your uncle or with Brad for orchestrating it?
A. Marissa: I most definitely blame Brad because Gervase wasn't the only person celebrating. I was actually shocked that my tribe used me as a scapegoat. What did that have to do with me? What does that have to do with how I've been acting towards you guys? I didn't see that coming at all. I thought everyone would vote for Katie because she did so poor on the puzzle and the puzzle is why we lost. People said Gervase added insult to injury and I wasn't expecting people to play like that. I blame my tribe as well because they followed Brad.
Q. Gina, RealityWanted: You strike me as the best female competitor on your tribe so it doesn't make sense to get rid of you so early on. Do you think that was a bad move on Tadhana's part?
A. Marissa: I definitely think so! I know if they didn't vote me out that Tadhana would be in a different spot. That challenge where Katie and Ciera went up against their moms on the platform, I knew I would dominate that. I just knew I needed to show my tribe what a big mistake they made and some people did say they shouldn't have listened to Brad.
Q. Gina, RealityWanted: Candice was voted out right on the beach and some returning players, like Rupert, have had bad blood with her in the past. What was your assessment of Candice, based on your time on Redemption Island with her?
A. Marissa: Especially since I hadn't seen her season, it was a clean slate. In the beginning when they won, she said everyone lies, cheats, and steals to win this game but I didn't see a bad side of Candice on Redemption Island. Maybe it was because she wasn't looking at me as the enemy. We were both in the same boat, our tribes didn't want us. We definitely had a good relationship. Going into the second duel, we wanted to take out Rachel but the last one was hard because we both wanted to come back. She didn't want to see her husband leave but she didn't want me to leave either. When John won I was like. "I'm in trouble."
Q. Gina, RealityWanted: You were very emotional when you had to throw your buff in the fire. What was going through your mind?
A. Marissa: I was just thinking, "Why me?" I was thinking I was going to win a million dollars or at least, I thought I'd make it to the merge. That was my lowest goal. I was thinking, "Why?!" I wanted to be there so badly. I was glad they didn't show me crying as hard as I was.
Q. Gina, RealityWanted: Caleb definitely made a bold move at tribal council by taking Brad out of the game. What did you think when you watched it on tv?
A. Marissa: I was like, "Go Caleb! Go Caleb!" It was perfect timing. He wouldn't have been able to do that at the camp because Brad would've shut that down. You feel like more of an individual at tribal. It wouldn't have worked if it wasn't for that perfect timing. He switched that power dynamic and got rid of Brad. I was surprised that they had to vote twice though.
Q. Gina, RealityWanted: What was the best part of getting to be part of the Survivor experience?
A. Marissa: I think the best part actually was being on Redemption where I got the true Survivor experience. I had to tend to the fire. If I wanted to eat something other than a half cup of rice, I needed to fish. That's something I was proud of. I used the Hawaiian sling, which was hard to use. Even though I felt like I was on the side, I felt like I had a better experience. I definitely had the survival experience down, I just missed out on the social experience.

Survivor: Blood Vs. Water airs Wednesdays at 8/7c on CBS.
(Image courtesy of CBS)

Follow Gina @ginascarpa