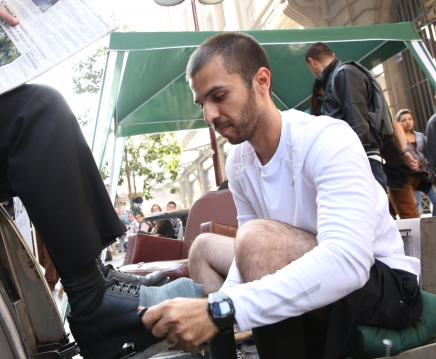 by Gina Scarpa
The second leg of The Amazing Race continues on in Chile with Tim, Marie, and their Express Passes leading the pack. Teams head to a ship that doesn't open until the morning so Marie deems herself in charge of the line and starts making rules which of course, no one likes. She continues to rub people the wrong way throughout the leg and at this point, it seems unlikely most teams will even want that second pass. Well, with one exception but more on that later.

On the ship, teams repeat a Spanish phrase to the office to get their next clue. Brandon and Adam's second language comes in handy, as they're the first to finish. Ally and Ashley finish second and take off without telling Leo and Jamal - they left their race husbands behind!
Next up is a Detour after a tiring bike ride with the choices of Brining or Mining. In Bringing, teams have to add heavy salt bags to a pool of water until they float and in Mining, they must break up boulders of salt to reveal a clue. Brandon and Adam finish Mining first, with Leo and Jamal hot on their trail. Though it takes some time, Jason and Amy finish Brining first while Nicky and Kim end up last, shivering and on the brink of tears.
A 24 hour bus ride takes teams to Santiago and, in an attempt to make up some ground, Rowan and Shane book a different bus. It would've been nice if they made sure they would've gotten in earlier because it actually put them four hours behind every other team. Amazingly, they caught up to the teams on the second bus and unamazingly, they just picked any random cart instead of the marked one.
Things finish up with a Road Block, where one team member had to shine shoes, pack up a cart, and move it six blocks.
Teams finish at the pit stop, located at a nature reserve, in the following order:
1. Chester and Ephraim (win a trip to Turks and Caicos)
2. Leo and Jamal (would have finished first but didn't settle cab bill)
3. Brandon and Adam
4. Nicole and Travis
5. Jason and Amy
6. Tim and Danny
7. Ally and Ashley
8. Tim and Marie
9. Nicky and Kim
10. Rowan and Shane
Despite a disastrous leg from Rowan and Shane, Nicky and Kim weren't much better and barely escaped elimination.  The same can't be said for the pair of actors, as they make an early exit from the competition.
The Amazing Race airs Sundays at 8/7c on CBS.
(Image courtesy of CBS)
Follow Gina @ginascarpa