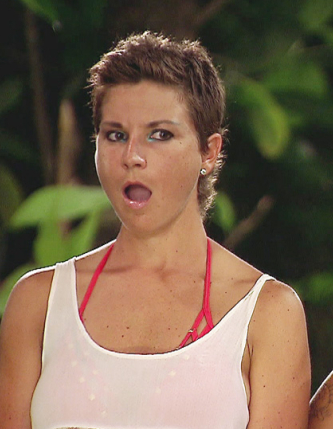 by Gina Scarpa
Despite everyone's warnings about CT, Diem just can't seem to listen to them during her time on The Challenge: Rivals 2. We've all been hung up on an ex but CT and Diem take things to a whole new level at times. It's so obvious that there's attraction and feelings there and yet, they can't seem to make things work.
The guys get a break from competing this week as the girls face off in their last challenge before the final. Chained together, they must run down the beach, memorize a series of colors, then run back and replicate those colors by stacking a series of discs. Diem has a hard time trusting Aneesa and the pair takes way too long to get back. They are the last to finish, which means they're headed straight for The Jungle, while Cooke and Cara grab a much needed win.
Johnny immediately stirs up trouble by asking Diem in front of everyone who she's going to want to go against. Of course she's going to say Jemmye and Camila over Paula and Emily, which turns into a huge argument back at the house. Jemmye calls Diem fake but takes it a step further when she tells her how stupid she looks for continuing to pursue CT.
CT shows his true colors when he shows allegiance to Jemmye and Camila and votes Paula and Emily in. Not only that but he has now completely distanced himself from Diem and doesn't seem to care at all. Johnny and Frank vote for Jemmye and Camila which leaves the rookies to break the tie. Jordan and Marlon decide that, given Paula and Emily's impressive record this season, they deserve to go to the finals.
We won't get to find out which female team is headed home and which moves onto The Jungle until next week. Damn you, To Be Continued!!
The Challenge: Rivals 2 airs Wednesdays at 10/9c on MTV.
(Image courtesy of MTV)

Follow Gina @ginascarpa