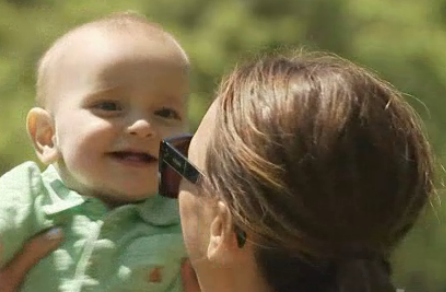 by Jessica Blackwell
G&B have got to be at least one of the world's hardest working couples, and so they decided to take a little vaca to relax. They headed to a beautiful resort in Mexico where they invited a few friends and Bill decided to mix a little competitiveness into his pleasure by integrating the Rancic challenge into their getaway. 
Even though baby Duke can't walk or crawl, before they even left for Mexico, Bill was declaring his son the winner and practicing lunges with Duke on his back.  Since he was so sure of Duke, Bill centered all the activities around the kids, prompting Colet and Farzin, who don't have kids, to have to borrow one! 
The competitions included the tow-a-kid boat race,  water balloon toss (while one parent was holding a child), and a spicy taco eating contest. I think the adults definitely enjoyed the Rancic Challenge more than the kids did, and in the end, the Wells were tied with the Rancics until next year! 
They were originally skeptical about bringing Duke on their first vacation but once they discovered the benefits of vacationing with their friends, it was all good. When Giuliana was wanting some couple time with Bill, she made arrangements with Dave & Lauren to trade off baby sitting so each couple could have time alone. 
Giuliana used her precious alone time with Bill to bring up the subject of another child. Their friends and family had been pressuring them both for a while to figure out when the next one was coming, but Bill didn't want to even discuss it until they moved to Chicago. I understand his view - he wanted to put some roots down before they expanded again and to make sure Giuliana made good on her promise to move. 
The episode cut of in the middle of the discussion, but it looks like Giuliana wore him down because the previews for next week show them talking to their surrogate! Stay tuned! 
Giuliana & Bill airs Tuesdays at 8/9c on Style. 
(Image courtesy of the Style Network)