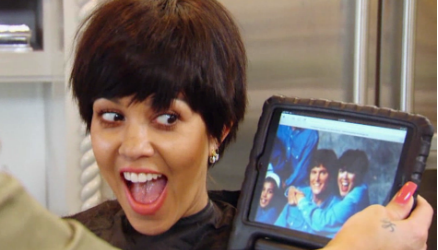 by Jessica Blackwell
In today's installment of things I wish I never knew, it came out this week that there is a Kris and Bruce Jenner sex tape floating around this world. Excuse me while I barf, but geriatric sex just ain't my thang. While the rest of the world may not be interested in this tape - Scott certainly was - but for not for the reason one might think. He's been judged by this strict moral code that Bruce claims to live by, so he was appalled that ole' Brucie would do something as scandalous as film a sex tape. 
For a reason that I cannot imagine, Kourtney and Scott thought it would be a good idea to do a reenactment of the love scene. Kourtney slapped on a Kris-esq wig, Scott threw on a gold medal, and they pretended to get busy, in front of Rob and Khloé. I don't know what was more disturbing - that Kourtney looked just like Kris, or that they had Kris and Bruce's real voices edited onto the tape. They did such a good job imitating them that Bruce stormed out the room when Kourtney played the tape for him because he really thought it was he and Kris's tape! 
Khloé had been having memory issues for a while, and they seemed to be getting worse. She was having trouble remembering a lot of her childhood, including the elementary school she attended and Christmas parties that her siblings can clearly recall. She decided to go see a neurologist, thinking that the memory loss might stem from injuries she received in a car crash back in 2001. 
After the neurologist determined that she didn't have dementia, he referred her to a hypnotherapist who determined that her memory issues stem from the way she deals with things. When she was put under, she was recalling not so happy memories - like when she wasn't allowed to see her dad during the O.J Simpson trial because her parents were on different sides.  At some point in her life, forgetting became a defense mechanism and now it's become a problem for her. 
With the Kardashians and Jenners both now having equal roles on the show, it's very easy to see the glaring difference between the two families. The Jenners are more down to earth, laid back, and real whereas the Kardashians are all about appearances, glamour, and fame. Even though Kendall grew up around her Kardashian big sisters, she was starting to realize that she was more like a Jenner. She realized she liked the same activities as her older brothers and all the time she was spending with her brothers started to make Kris feel insecure. Once Kendall reassured Kris that although she loves her Jenner fam, she gets a lot of her best traits from her mom, Kris was able to relax and appreciate the woman that Kendall is becoming. 
The season is taking a break for a while and returning on September 29th. Based on the previews, it looks like we'll get to see all the drama surrounding North's birth! Stay tuned! 
Keeping Up With The Kardashians airs Sundays at 9/10c on E! 
(Image courtesy of E!)