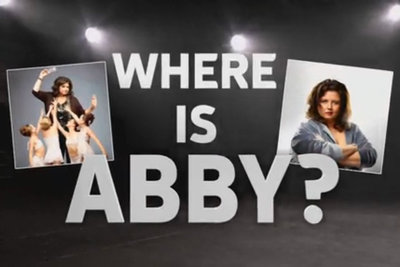 by Kylene Hamulak
As the "previously on..." open reminds us, Dance Moms has been a little dramatic with all the comings and goings.
This week's going? Apparently it's Abby herself, since she's nowhere to be found when our Moms and their girls arrive. "I just assumed Abby's at a headband sale somewhere," says Christi.
I chuckled at that...and then I felt bad a few seconds later when Melissa tells them that Abby's mom has been very sick. Well, actually, first I was confused when Melissa said "Mrs. Miller" because I thought she was just being sarcastic about Abby, but THEN I felt bad about her mom.
No one, including Gianna, has heard from Abby, but the show must go on. Gia won't pick costumes, assign solos, or tell the team where they're headed for competition, but wherever they end up? They're going to need a group routine. And she's got the music for that.
"The theme," Christi tells the Moms, "is 'Abandoned.'" Ooooh...looks like Christi wore her funny pants today!
One thing that isn't abandoned, of course, is the bickering upstairs. As the Moms await announcements on the routines, Christi gives us the run down: Maddie hasn't had a solo in weeks. Peyton hasn't had a solo the entire time she's been with the team. Kristie threatened to quit if Asia didn't get a solo. So basically, the chances of someone being pissed off are pretty high.
Kristie says she just wants Asia to dance, as if the rest of the Moms are sitting there hoping their kids can just watch this week. Kristie, no parent puts her kid on a team just so she can sit on the bench. Of course, Jill takes issue with this because obviously KENDALL is the one who most deserves to dance. I mean, I want to roll my eyes at Jill, but Kristie is just so obnoxious about how much Asia trains and how hard she works that I feel almost compelled to defend her.
What happens next? Oh, just Jill dropping an F-bomb and Kristie calling her a hot mess.
Meanwhile, the group is rehearsing with the help of James, who, along with Gia, is coaching the girls through an elegant routine.
"Hopefully, Abby will be appreciative and not fire me for doing our own choreography," says Gia.
Christi is bored by the catfight between Kristie and Jill, so she calls Kelly, which annoys Leslie. Mission accomplished, Christi. She invites Kelly back to the group routine, since Abby isn't around and Kelly said they were still on the team.
Not all the Moms agree with this - Jill is on board, but most of them agree that Abby would freak out. Even Christi can admit that. "We may be worrying about nothing," Holly says, as they discuss the likelihood of Kelly returning.
Guess what. She's back. Kelly explains that she always comes back because the girls "miss their family" - all the dancers are like sisters.
Gia knows it's not a good idea, but she lets them join the group anyway. Why? Because if she doesn't, the Moms are just gonna give her a hard time. And ain't nobody got time for that.
The next day, the team walks in to Gia at the desk again. "You know, the first day of not having Abby present was pretty good," says Holly. "It's like having a substitute teacher...day two? I'm not so sure. She needs to come home. She needs to do her job."
After Abby hangs up on her, Gia concludes that she doesn't want to talk, but she does get a text from her with information about the competition for the week. They'll be going to Ohio, all nine (yes, NINE) girls will be in the group dance (although she does add an "as far as I know," which I think is because Abby doesn't realize there ARE nine of them), and Asia and Maddie are both doing solos.
Since there are only three routines and they usually enter four, Brooke innocently asks if she could have a solo. Innocently. Ha. Yeah, right. Gia is willing to try to work something out, but not without talking to Abby. This will end well.
The girls are finishing their final group rehearsal with a "Gia's Dolls!" cheer while the moms share their theories about where Abby is.
"Is Abby with her mother?" they ask Melissa, who is the only one who speaks to Abby.
"I don't know," responds Melissa to the Moms. (Quick turn to the viewers) "Obviously Abby is with her mother."
Kristie thinks Abby is scouting a new studio to get away from the crazy moms, who she, interestingly, does not seem to count herself amongst. Jill thinks she's off canoodling with "that creepy werewolf guy that she has been seeing." WHAT?! Abby is dating Jacob from Twilight?!
Kelly's gotten might brave in her time away from ALDC, so she takes it upon herself to leave a message for Abby. "She doesn't scare me," she insists. Hm. Well, she makes me a little nervous, not gonna lie.
Maddie's solo rehearsal is up next, and Gia's mission is to pull more emotion from her. Apparently Melissa's mission is to pull more emotion from ME because she tells the Moms about how, as part of the girls' involvement with the Starlight Foundation, she wants to invite a little girl to watch them dance. She thinks the little girl will be an inspiration to Maddie.
Meanwhile over on Instagram, a recently posted photo would suggest that Abby is NOT, as believed, with her ailing mother. So that's going over well.
You know what I love about Dance Moms? The costume closet is basically the studio version of the ladies room. If you ever need to talk to someone -whether it's to confront them, or tell secrets or dig for gossip, the best excuse you can give is something to do with costumes. Just throw out words like "sequins" and "feathers" and "appliques" and no one will even question where you're going.
Like when Melissa goes to get some info from Gia, who has been told she will be fired if she choreographs a solo for Brooke. Gia's upset, but Melissa promises her they'll get it worked out.
I'm not sure why Gia goes through and does the routine with Brooke, but she does. It's apparently a dance about how the Moms and Abby are always fighting, according to Brooke. And she would know, because it's actually HER song. But, really, Gia didn't promise her anything - why can't she just cut it? (At this point, I realize there's still about 30 minutes left to the show, and THAT is why she can't just cut it.)
Abby's voicemail is getting quite a workout this week - maybe she shouldn't give the Moms her number anymore. This time it's Leslie's turn - she calls to rat out Kelly, and Brooke, and, well, GIA. Nice going Leslie. And you wonder why everyone hates you? If you want a quick recap, just ask Christi.
In an effort to cut the ugly out of tonight's episode, Melissa greets Hannah and her mom, her visitors from the Starlight Foundation. When she introduced Hannah to Maddie, I'm not going to lie...it was kind of awkward. How is a tween supposed to react when you say, "Hey, nice to meet you, this is my daughter who had brain surgery when she was two and suffers from a condition that none of us can pronounce?" Still, it's a nice gesture, and it's refreshing to see Dance Moms give back.
But enough of that schmaltz. Let's talk about the text Leslie just got from Abby, with THREE exclamation marks, about how Brooke can't do anything and, oh, "FYI - Peyton can do a solo." Ugh. Just shut up already, Leslie.
Which is basically what Kelly tells her before calling her a hoodlum. Oh, but Leslie isn't a hoodlum, apparently, because she does NOT "say the f-word every two seconds." That's her definition of a hoodlum.
Everyone is (relatively) calmed down by competition day, though Abby? She's still not around. Oh wait - that thing about being calm? Yeah, that's out the window. There's a bunch of yelling - or, excuse me, BARKING - until Hannah returns, and everyone is on their best behavior. Maddie tells her that her dance is dedicated to her new friend, and then Melissa reminds the poor kid that she can't jump on a trampoline.
Nice going, Melissa.
Asia is the first solo, called "Lightning". It's nice that her costume seems to be on correctly this time, and it's a strong performance. Maddie's performance, "Hold On," is beautiful, in typical Maddie fashion. The Moms are all a bit miffed that Abby missed two terrific performances but, mostly, that she wasn't there for the team. At all.
Side note: Maddie is an amazing dancer, but the kid is SO focused on her skill that she seems like a robot in every other aspect of life. When Melissa asks if she smiled at Hannah at the end of the routine, Maddie's response was a "yeah" that couldn't have been more forced if she actually tried.
Melissa is the final Mom to give Abby a call, but this time she actually answers. From bed. On speaker phone. Melissa asks when she's coming home and the answer is, "Whenever Brooke and Paige get the hell out of my studio."
Everyone in the room is shocked. And by "the room", I mean...the room I'm in. And also the dressing room. It always amazes me that Abby can take the sins of the mothers out on the kids, and Paige's face when she hears it is heartbreaking. Brooke is in tears, and even Kelly breaks. "She doesn't want us here," squeaks one of the girls. It's actually sad.
Brooke isn't sure she should do her solo even though her mother continues to encourage it, and Melissa is right there being a cheerleader, I guess because she thinks maybe Kelly doesn't hate her anymore? Brooke's got a lot on her mind though - Abby already hates her, and will probably hate her even more after her dance, and...well...what if nobody even likes her song? She performs "I Hurt," and I've gotta say...I don't even like her song.
Right before the group dance, Jill points out that that Abby hasn't done a thing for them, and that a win would be totally on Gia and the team. They come out for "Just Be" and give a great performance that makes the Moms are proudly applauding. Christi says that if they can pull out a win without Abby, it'll be her favorite victory EVER. Ever, guys. That's big.
Awards are given to Asia, who gets 1st Place for her solo, while Brooke comes in 4th Place. Of course, Maddie gets 1st Place too, along with a trophy that's almost taller than she is. She gives her trophy over to Hannah, which is a sweet gesture, but something tells me may not have been entirely Maddie's idea, especially considering the rehearsed "You're a real winner" as she presented it.
The group awards are the last to be announced, and the Moms go nuts when ALDC is awarded 1st Place. Holly describes it as being like winning the Olympics, and the GROWN WOMEN are doing all kinds of ridiculous things, like squealing and hollering and skipping around with each other. So they're happy with the win.
You would think Abby might like to know how her team did, right? Well, maybe she would, but she's "not around" when Melissa calls. The mystery deepens - is she really with her mother? Or is she really refusing to come back until Kelly leaves?
Meh...who cares. The girls come bounding through the doors to celebrate, so for now, we'll let them enjoy it.
What did you think about Abby's behavior tonight?
Catch Dance Moms every Tuesday at 9/8c on Lifetime!
(Image Courtesy of Lifetime)
Follow Kylene on Twitter at @keepingupwithky!