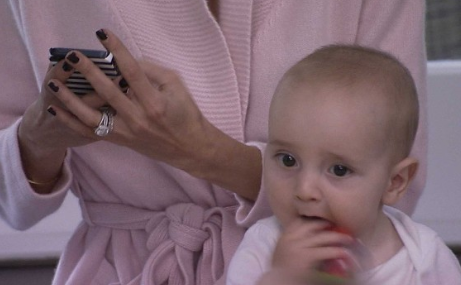 by Jessica Blackwell
Giuliana realized that juggling her career and her new son wasn't as easy as she'd hoped it would be. Between her phone constantly going off while she was trying to spend a quiet morning at home with her son and lengthy reshoots stopping her from getting home early, she was getting super frustrated with her inability to manage her time the way she wanted to. Monica suggested that she see a life coach to help put things into perspective. 
The life coach emphasized that spending time with her son is more important than answering an email and said that she should focus on the quality time she has with him when she's home. This meant not answering every phone call and email that she receives while she's with him. For Giuliana, this was easier said than done. On one hand, I can understand that when E! Network calls, you kind of have to answer. On the other hand, maybe it wasn't the best idea to keep her phone laying on the blanket, faced up, so she could see the calls and texts as they were coming in. Nonetheless, Giuliana really tried to break the habit for her son. 
Meanwhile, Bill wanted to get himself super checked out to make sure he was healthy now that he's a father to baby Duke. During his exam, he found out that his cholesterol level was pretty high and he was actually at risk for a heart attack, so he'll more than likely have to change the way he eats. When he came home and told Giuliana, she was more concerned about the young, hot, doctor who had fondled her husband touring the exam than the actual state of Bill's health. LOL! 
Since Monica was about to go on maternity leave so she could pop out another baby, Giuliana threw her what was supposed to be an intimate, classy baby shower. Well Robbie had other ideas and brought a gang of male strippers who made the mom-to-be so hysterical, she peed on herself. After Giuliana politely dumped the children with the nanny and Monica's husband, the (very sexy might I add) stripper gyrated all over the ladies and had dollar bills thrown at him. 
Next week, Giuliana and Bill argue over whether to throw Duke a six month birthday party. Stay tuned! 
Giuliana & Bill airs Tuesdays at 8/9c on Style. 
(Image courtesy of the Style Network)