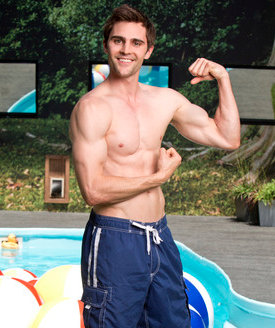 by Gina Scarpa
Thanks to the Big Brother MVP twist this season, the houseguests were forced to speed up their gameplay and form early alliances.  The strongest group seemed to be The Moving Company, comprised of Nick, Howard, Jeremy, Spencer, and McCrae.  When the girls started to get wise to them though, it spelled big trouble for Nick, who was targeted by Elissa after becoming MVP for the second week in a row. Nick was blindsided at the eviction ceremony and sent out of the Big Brother house.  We talked to him today about his gameplay, alliances, and admirers in an exclusive interview.
Q. Gina, RealityWanted: You seem like a mini Dan Gheesling in training. Is that the player you aspire to be like?
A. Nick: Okay, so the rumor in the house was that I was Dan's brother. That's a mega compliment. I'm excited people see me that way. Coming into the game, I actually didn't want to play like that. Your perception of yourself is very different. I will take Dan any day!
Q. Gina, RealityWanted: Do you feel like you formed The Moving Company too fast?
A. Nick: I will say this. The BB MVP twist, having a third nomination, forced everyone to play the game super fast. I saw the talent in the house and went off of micro-judgements, a conversation... I found it necessary to form The Moving Company very quickly before anyone else would snatch up that talent. There was a lot of trust issues because it did form so quickly. We wanted to work well together but we couldn't be seen with one another. It was a double-edged sword.
Q. Gina, RealityWanted: The ladies were really trying to get with you this season. First Jessie, then Gina Marie! Why did you avoid a showmance?
A. Nick: I knew, coming into the house, that my Achilles' heel could be the females. I came in with blinders, knowing if I got involved, I'd get heavily involved. I tried to keep the brakes on the whole time.
Q. Gina, RealityWanted: It was very surprising to see Spencer turn around and vote you out last night. What happened?
A. Nick: It was so crazy! Had it actually gone down on Wednesday, I wouldn't be talking to you right now. Because we had an extra day, I was campaigning then talking game on the second day, then checking in on the third game. I talked game so convincingly that everyone was ready to boot Elissa. Everyone had the third day to reconsider their thoughts and in that time period, people started getting a little stir crazy. They started thinking they could weaponize her and who's Nick? He's this guy we don't know anything about. It was a timing issue more than anything.
Q. Gina, RealityWanted: The big topic of discussion this season has been the controversial remarks in the house. Did you have any how the fans were going to react to some of these people?
A. Nick: Absolutely not! You're totally cut off inside the house and I was not a part of these conversations. Not being aware of it, it was quite a shocker once I got outside.
Q. Gina, RealityWanted: After playing the game with him and finding out things outside of the house, has your opinion of Jeremy changed?
A. Nick: None! I love Jeremy, he was one of my favorites in the beginning and all the way til the end. He's a guy I could trust because he wears his emotions on the outside. There's no secretiveness, and it's that honesty that I appreciate. It made me want to align with him early on in the game. We had a final two agreement from the second day.
Q. Gina, RealityWanted: Helen played a very good game this week and was a serious campaigner. What do you think about her as a player?
A. Nick: I think she's a fantastic player. She might even take the win if she can hold the facade that she's a non-gaming gamer. She's still non threatening and so she's not even on the radar. This is a marathon though, not a sprint. If people become aware, it's only going into week 3, that could be a problem. She could backdoored very easily.
Q. Gina, RealityWanted: The girls are onto the alliance of guys in the house. Does that mean the guys are in trouble?
A. Nick: I don't think they're necessarily in trouble because all they'll have to do is reform an alliance somewhere else. You're probably gonna see 10-20 alliances throughout the course of the summer because it's just the sway of the house.
Q. Gina, RealityWanted: You said you avoided showmances but your alliance members did not. Do you think it's hurting McCrae's or Jeremy's game to be hooking up in the house?
A. Nick: In McCrae's situation, it has helped him thus far. He's almost become a recluse but he's off everyone's radar. Jeremy, probably not so much. It's really hard to control Kaitlin. She's a good looking female, and good looking females can say and do different things and almost get away with it because Jeremy's gonna come right back.
Q. Gina, RealityWanted: You left much, much earlier than you wanted to but what was the best part of playing Big Brother?
A. Nick: The best part about playing the game is the game itself. Utilizing your brain all day long and around the clock may seem like a ton of effort... it is, but that's the part that I loved. I love the fact that my literal job was to scheme, pre-plan, and plan all day long. I was in heaven while I was in the house!

Big Brother airs Sundays, Wednesdays, and Thursdays on CBS.
(Image courtesy of CBS)

Follow Gina @ginascarpa